AR and VR
These tools are already beloved by different industries. In the fashion or beauty industries, users can use AR as a fitting room, or you can visualize your home interior thanks to AR. VR is a super-trendy technology that embraces different areas of our life. AR and VR technologies have taken the travel industry by storm. Especially during a pandemic, where people stay home with no possibility to travel, AR and VR technologies bring us this opportunity. Museums have opened their doors to online exhibitions, and you even visit them physically with VR.
Robotics
This technology is not a big part of our daily life yet, but our future for sure. To automate processes and decrease 'human error', the travel industry uses robots to enhance customer service and reduce costs on labor. Hotels use robots for concierge roles, and restaurants use robots in food preparation and other food service. Airports can use robots to detect insecure activities, like weapons. And, can you imagine, you will have luggage that follows you like your pet? And, this is the nearest future.
Internet of Things (IoT) and wearables
The IoT is a useful technology in different domains. The tourism industry also embraces this top-notch technology that connects various devices. IoT solutions can be used in airports or hotels when customers can get excellent services through connected devices.
Different travel companies use wearables to improve customers' engagement. For example, the airlines like Air Berlin and Iberia offer their customers smartwatch boarding passes.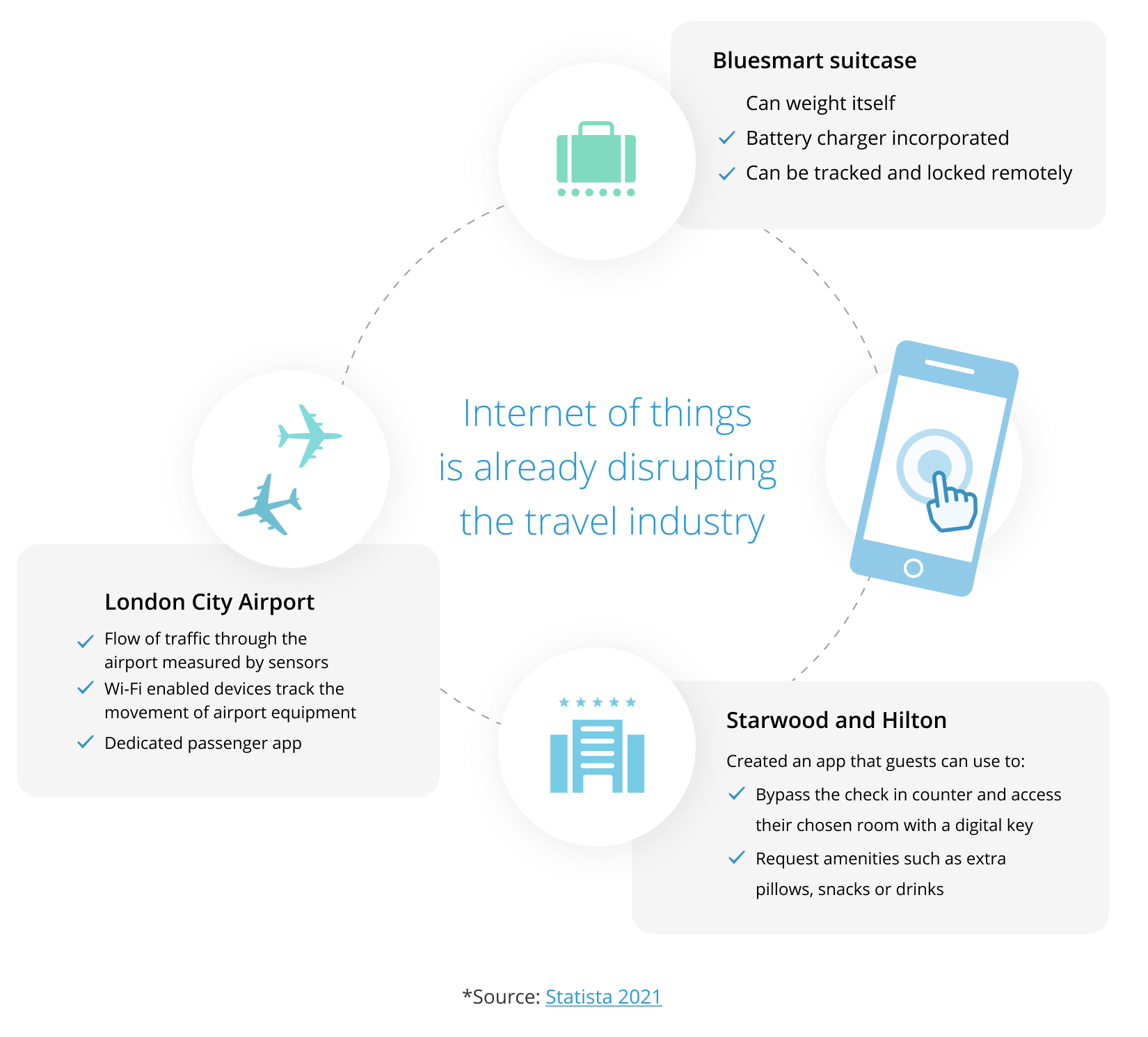 Artificial Intelligence (AI) and big data
AI helps tourism companies personalize customers' experiences and process a significant amount of data. This technology is popular among search aggregators like Skyscanner, where users can get a customized list of recommendations.
Thanks to AI, companies save time and money and reduce the possibility of human error. AI technology also processes a big amount of data serving more customers than possible with employees. Big data analysis gives an in-depth insight into customer behavior or any other data necessary for service improvement. Thanks to these findings, travel companies make adjustments in their services.
Recognition Technology
This technology is the latest trend in the tourism industry, as it makes purchasing or security actions faster and more convenient. The recognition technology usually includes the following: facial/fingerprint recognition, biometrics, etc.
Again, what is essential for pandemic time – recognition technology minimizes interactions between people. Hotels and airports use this solution in contactless payments, check-outs, and so on.
Virtual Assistants
Virtual assistants like Siri or Alexa are already beloved by many of us. We use virtual assistants in our daily life, so why not in the travel industry? The travel industry also embraces this technology. Thanks to VA, travelers can get information quicker, or even a personal virtual guide while traveling. VA can play the role of concierge and help in bookings, or navigations, etc.