Time-tested ERP-Class Software designed
to power your travel business
One of the most feature-packed of GP Travel Enterprise components, Enterprise Management brings together and automates all critical back-office functions of a successful travel business.
With the help of this toolset, you can both manage and optimize your client and partner relations, reservation tracking, revenue streams, financial monitoring, and staff collaboration without missing a thing about your day-to-day business workflows.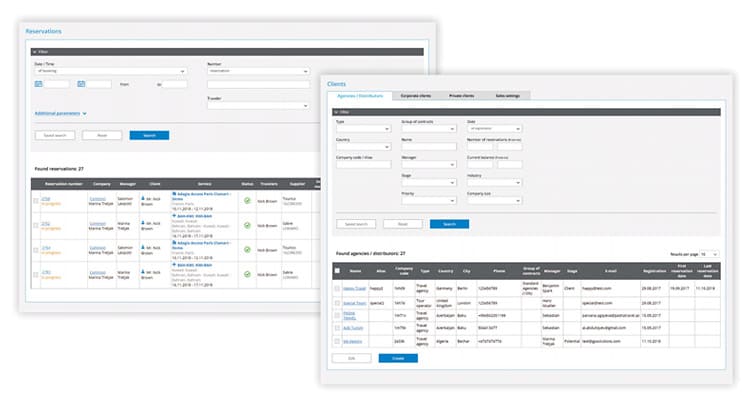 What You Find In Enterprise Management
CRM
The three functional layers of our built-in CRM will get you covered in every aspect of client relationships and sales collaboration. In-depth client profiles, complete sales funnel visibility, communication tracking and planning, as well as integration with online booking, requests and chats — you get all this and more to act on your marketing and sales strategies effectively.
Reservation Management
This module will serve as a backbone of your reservation management capabilities in addition to online booking via B2C and B2B subsystems. This way, you can easily aggregate and filter the lists of your reservations, modify and cancel any orders as needed, assign dedicated managers to process specified reservations, and create orders placed through direct sales channels — all from the comfort of a single system.
Communication & Collaboration
This is your communication hub helping you keep up your connections between staff, partners, B2B clients, and suppliers. Here, you can discover advanced collaboration options via online chats, stay in the loop through instant customizable notifications and automate email communications with your professional network for more productivity.
Analytics
This one is your data powerhouse to give you complete control over the dynamics of your sales and performance. With on-demand reports, instant analytical insights on clients and bookings, and advanced data visualization, you can get your hands around data-driven management at any depth, from basic analytics to BI.
Finance Management
This module is at the core of your invoice and payment management. Its advanced settings give you access to flexible configurations and tracking of payments made both offline and online. Specifically for tour operators, the system supports credit and deposit configuration for agents. Altogether, this comes up as an end-to-end financial tracking tool so that you can get full financial details per invoice, client, or agent at a glance.
Travel Product Packages
Enterprise Management gives you more freedom of designing travel packages of mixed and personalized products from various categories and suppliers. While you can easily configure complex all-round tours from flights and transfers to accommodation and extras, you can also go the extra mile and offer dynamic tours that are adjustable to each and every client's preferences.
Business Rules
This module is here to give you ultimate flexibility in creating your own business logic. Set up individual markups and agent commissions as well as enforce your tailored reservation and sales policies per product, sales channels, distributors, high-value clients, and more. With this, you can also tap into search personalization and serve your clients with recommended content online.
Sales and Pricing Optimization
Enterprise Management serves an array of tools to make best-value offers to your clients and thus maximize your gains both in terms of revenue and loyalty. With these tools, your staff can search and book via multiple credentials, offer tailored discounts and promotions to loyal clients, as well as get hold of the best deals from suppliers.
Corporate Travel Management
This module is your choice if you look for more efficiency and control over your corporate travel management workflows. The system automates detailed corporate client profiling and supports business processes in every aspect of corporate travel, from policy to travel document management and approvals. To ensure extra value, the tool also helps you secure best deals from suppliers and control your clients' budget.
The name Enterprise Management speaks for itself. Our platform puts you in the center of your business processes with complete visibility over your client relationships, multi-channel reservations, revenue flows, and partner collaboration, which makes your managerial chores feasible and efficient.
360-Degree View
Of Your Business
Time-Efficiency &
Transparency
The system serves you business process automation at its best, cutting your time and effort needed to manage your workflows. Now you can easily keep tabs on your reservation and invoice statuses, agents' credits and deposits, or clients' loyalty and value — while acting on all of this in real time.
Newly enabled with Enterprise Management tools, your sales teams can take advantage of rich built-in features to optimize their conversion rates. By leveraging client communications, dynamic packaging, personalized content, tailored promotions and more, they'll find it easy to appeal to your audience and uplift sales.
We designed our system to make you adaptable when it comes to your partner relations and underlying business rules. This translates into more flexibility when setting up markups, commissions and reservation policies, so that you and your professional network can get the most value out of your cooperation.
Want to Find Out More About Enterprise Management Modules?