One of the most feature-packed of GP Travel Enterprise components, Enterprise Management brings together and automates all critical back-office functions of a successful travel business.
With the help of this toolset, you can both manage and optimize your client and partner relations, reservation tracking, revenue streams, financial monitoring, and staff collaboration without missing a thing about your day-to-day business workflows.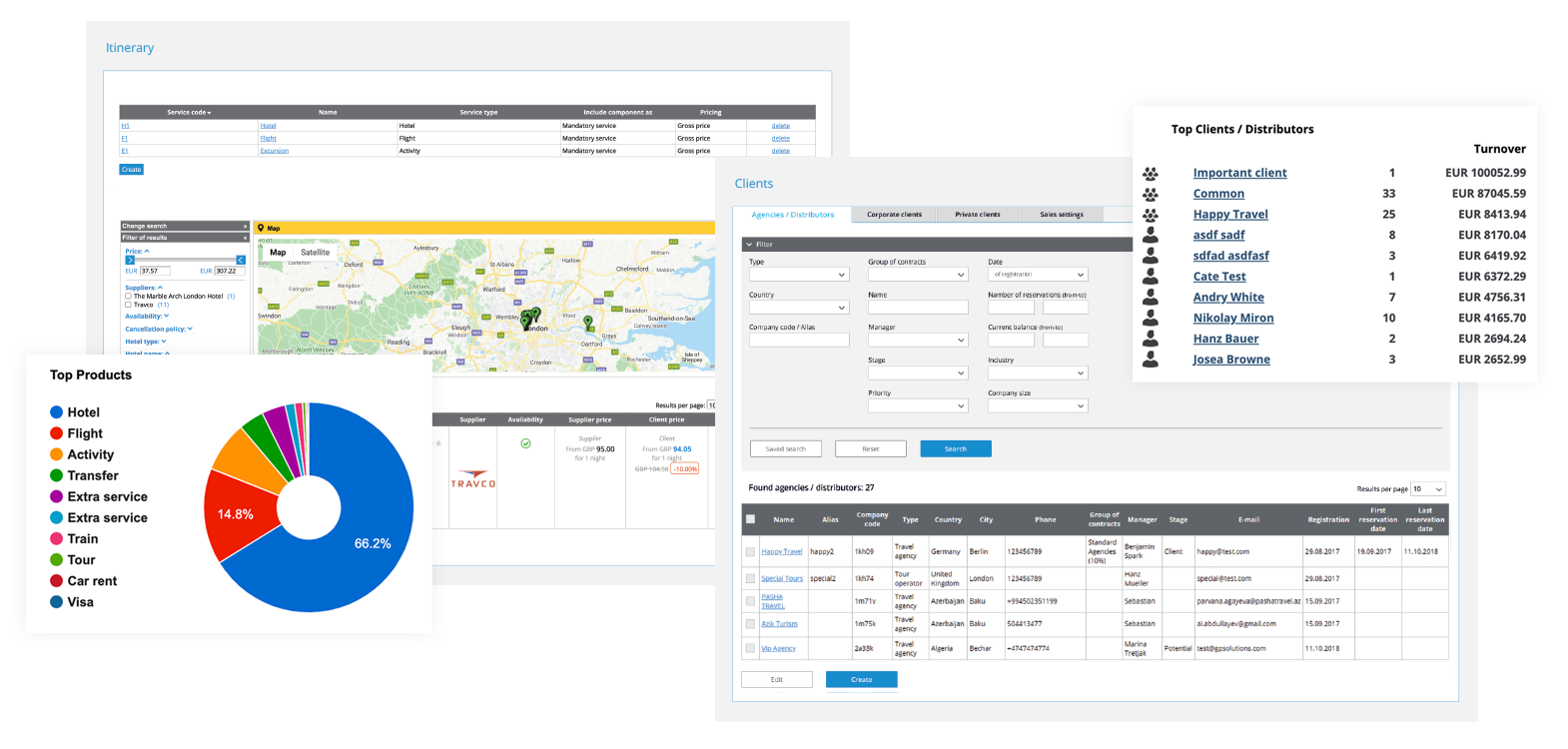 What You Find In Enterprise Management
Abdulrahman Aziz, Project Manager
"GP Solutions has shown its professionalism by supplying us with their ready-made products. On the product level, they delivered and implemented GP Travel Enterprise platform, which has helped us to:
Cover our requirements to connect to multiple suppliers of hotels, flight tickets, events and car rentals; Set up our own holding structure, which is specific to our business model; Introduce in-depth automation to the daily booking processing routines performed by our staff."
360-Degree View Of Your Business
The name Enterprise Management speaks for itself. Our platform puts you in the center of your business processes with complete visibility over your client relationships, multi-channel reservations, revenue flows, and partner collaboration, which makes your managerial chores feasible and efficient.
Efficiency and Transparency
The system serves you business process automation at its best, cutting your time and effort needed to manage your workflows. Now you can easily keep tabs on your reservation and invoice statuses, agents' credits and deposits, or clients' loyalty and value — while acting on all of this in real time.
More Sales Opportunities
Newly enabled with Enterprise Management tools, your sales teams can take advantage of rich built-in features to optimize their conversion rates. By leveraging client communications, dynamic packaging, personalized content, tailored promotions and more, they'll find it easy to appeal to your audience and uplift sales.
Value-Based Partnerships
We designed our system to make you adaptable when it comes to your partner relations and underlying business rules. This translates into more flexibility when setting up markups, commissions and reservation policies, so that you and your professional network can get the most value out of your cooperation.
Want to Find Out More About Enterprise Management Modules?

Leverage our best-in-class enterprise travel software to outperform the competition
and achieve your revenue goals. Contact us now, and our travel technology experts
will get back to you shortly.