Destination Management Companies Software
Get our DMC software to combine your deep local knowledge
with unmatched quality of service
GP Solutions provides software for different types of travel companies, including DMCs. Our team developed a full package of technological solutions to bring efficiency, visibility and pleasant user experience to every corner of DMC business.
Our Destination Management Solution reshapes the way you deliver travel services to clients: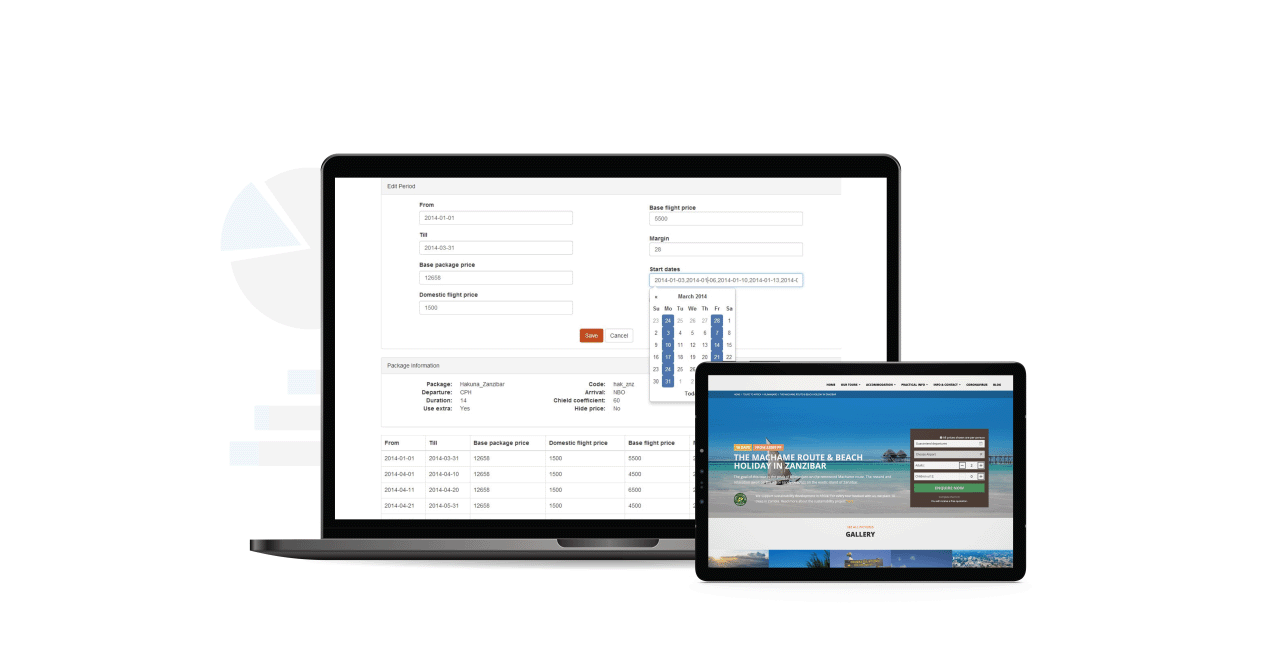 Streamline your self-operated inventory management
Sell online your local suppliers' offers
Enable B2C bookings from your website
Make operational processes fully transparent and trackable
Improve the way you operate with your partners and customers
Enhance your office sales with offline reservation management
Power your business through improved reporting and analytics
Set up flexible mark-ups, commissions and other commercial conditions
Get in touch to find out how our Destination Management Software can best serve the needs of your business
GP Travel Enterprise for
Destination Management
We deliver our web-based GP Travel Enterprise platform designed to remove barriers on your way to paperless, transparent and cost-efficient DMC business. All of its modules are fully customizable, can be configured according to your specific requirements with full attention to detail.
The modular structure of our platform and the great number of modules available allows to develop your digital workflows and boost your performance in the following areas:

Self-operated Inventory Managementent
Effective travel inventory management functionality is of paramount importance for DMC business. Whether you operate your own tours and activities or contract it from local suppliers, we deliver the right tools to manage and put them up for sale.
GP Travel Enterprise delivers a range of modules for managing all types of inventory, from self-operated charters to visa support, including:
Flights
Hotels
Transfers
Railway
Car Hire
Excursions
Cruises & Ferries
Insurance
By adopting your set of inventory tool you unlock the following capabilities:
Setup of rule-based special offers and discounts
Clear and easy availability tracking
Option to design your original touristic products and itineraries
Manage direct contracts with suppliers
Supplier's extranet for product self-management
Publish your travel products online for B2B and B2C
Flexible configuration of pricing and tariffs
Quotation and itinerary management:
With our Destination Management system, you can create bespoke, customized itineraries and quotations: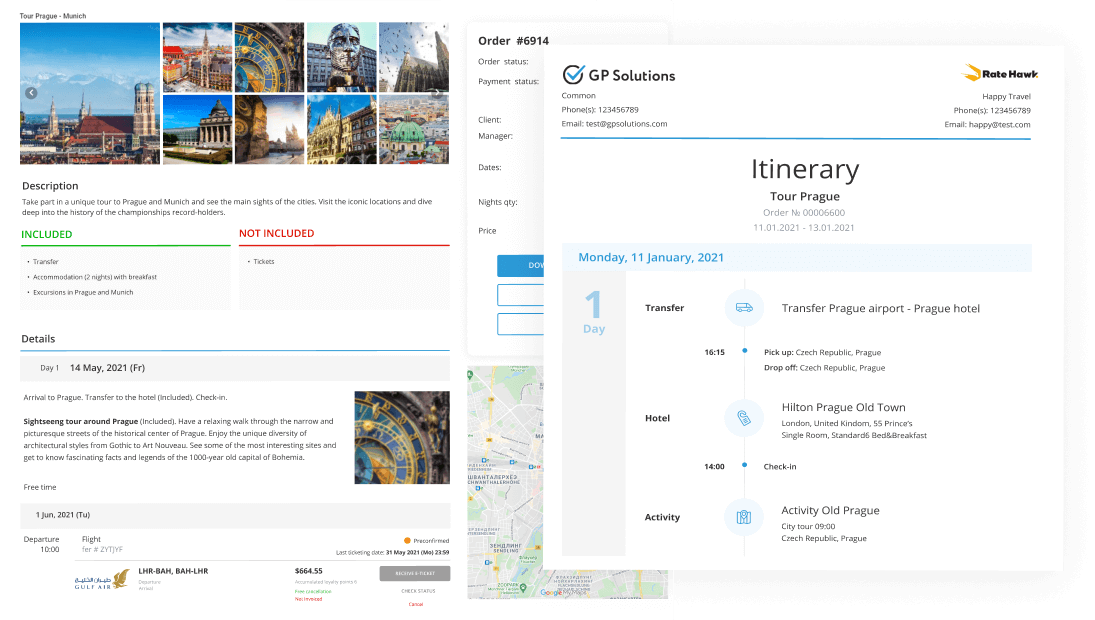 Best choice for FIT's, Groups, Regular Tours, packages, ad-hoc itineraries, sporting tours & events, special interest tours, series tours & scheduled coach tours
Tailor-made tours design on the fly using your own inventory and 3rd party suppliers
Online Chat integration option to provide your visitors with a handy tool to communicate with you directly
Fully automated producing of documents - vouchers, trip plan itineraries, invoicing
Ability to publish repackaged tours with an opportunity to book online
Accurate calculations - no more Excel files
Advanced B2B Sales Management
Your relationship and collaboration with distributors is a key to sustainable business. Our company offers a line-up of solutions to facilitate your sales to travel agents, wholesalers and other tour operators, whatever applicable. These include:
Online B2B
Booking Applications
Partner Sales
Module
Multi-level Distribution
Module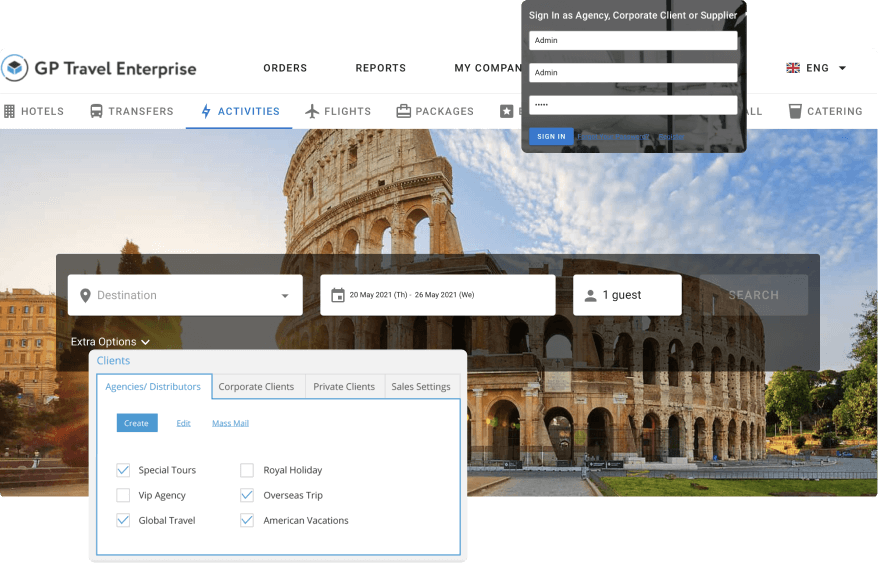 Automate your online sales to B2B parties
Provide direct access for partner travel agents and wholesalers so they can book your products and manage orders via own branded accounts
Speed up booking processing
Connect to your partners and wholesalers as supplier via GP Travel Hub API for real-time availability check and bookings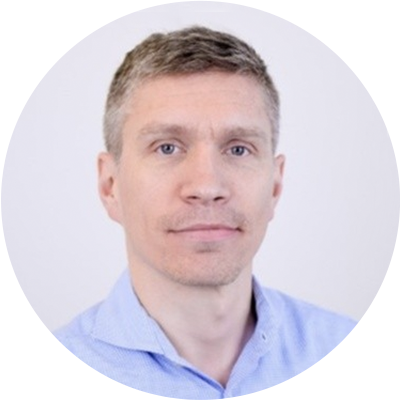 Dennis Behnsen, Vice President
"I can highly recommend the services of GP Solutions. During the past 1.5 years, our company has been working with GP Solutions on a new project of ours. The company offers high quality services. We can say that we have always been satisfied by their work "
B2C Online Booking for Travelers
Utilize our online booking engines and widgets to offer your product to the public via B2C websites. We provide a selection of templates or integration of GP Travel Enterprise API into your own booking interface.
Build your online booking portals
Introduce automated booking & search to your existing websites
Enable affiliate sales by placing your online booking widgets on partner websites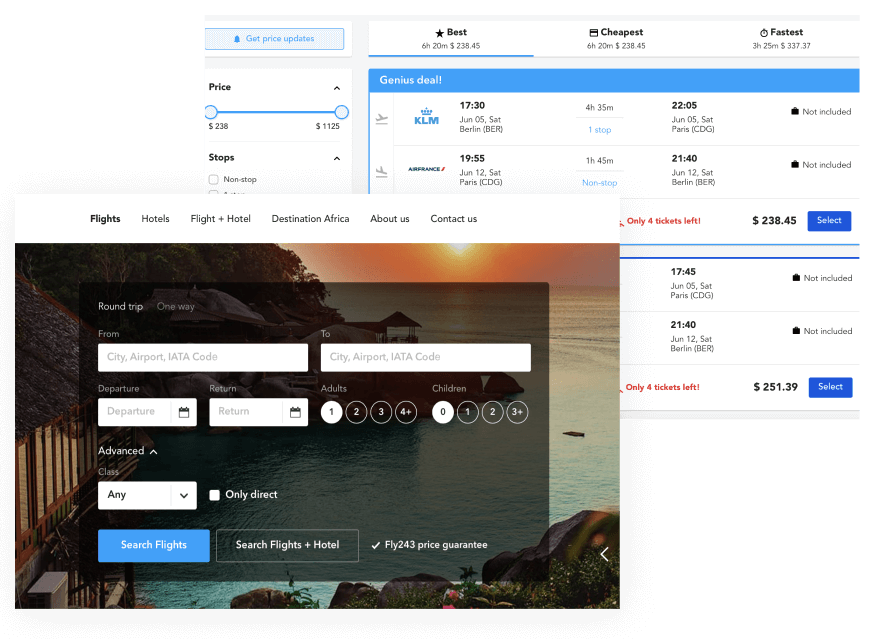 Mobile Booking Apps
The mobile channel is something you cannot miss in your sales. Start reaching out to mobile users with our ready-made Android & iOS mobile applications.
Complement your online booking with mobile search & book interfaces
Provide your partners with one more channel to sell your products
Build a custom mobile app based on API of GP Travel Enterprise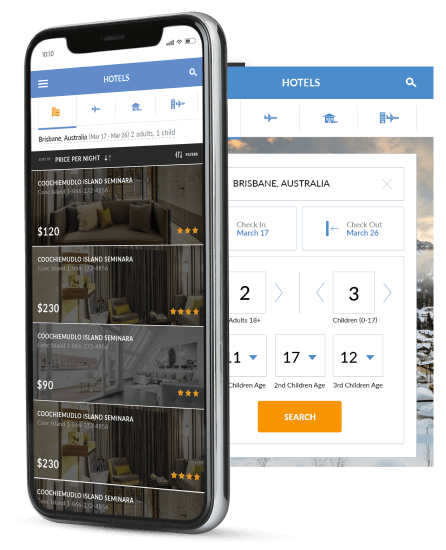 CRM Extension
A reliable CRM system is essential to keep track of your relationships with suppliers and customers. With huge loads of information shared between your responsible staff members, you can maximize the synergy between your marketing, sales and account managers.
With our destination management company software you can deploy our extended CRM module or integrate any external CRM tools. In both cases, we make sure data is not duplicated between your systems thanks to the two-way integration.

Manage relationships with both your partners and end customers
Carry on online booking requests and relationships all in a single system
Stay in control over the entire customer life-cycle and sales funnel management
Financials
To manage all of your financial matters, we're happy to offer special features covering the following functions: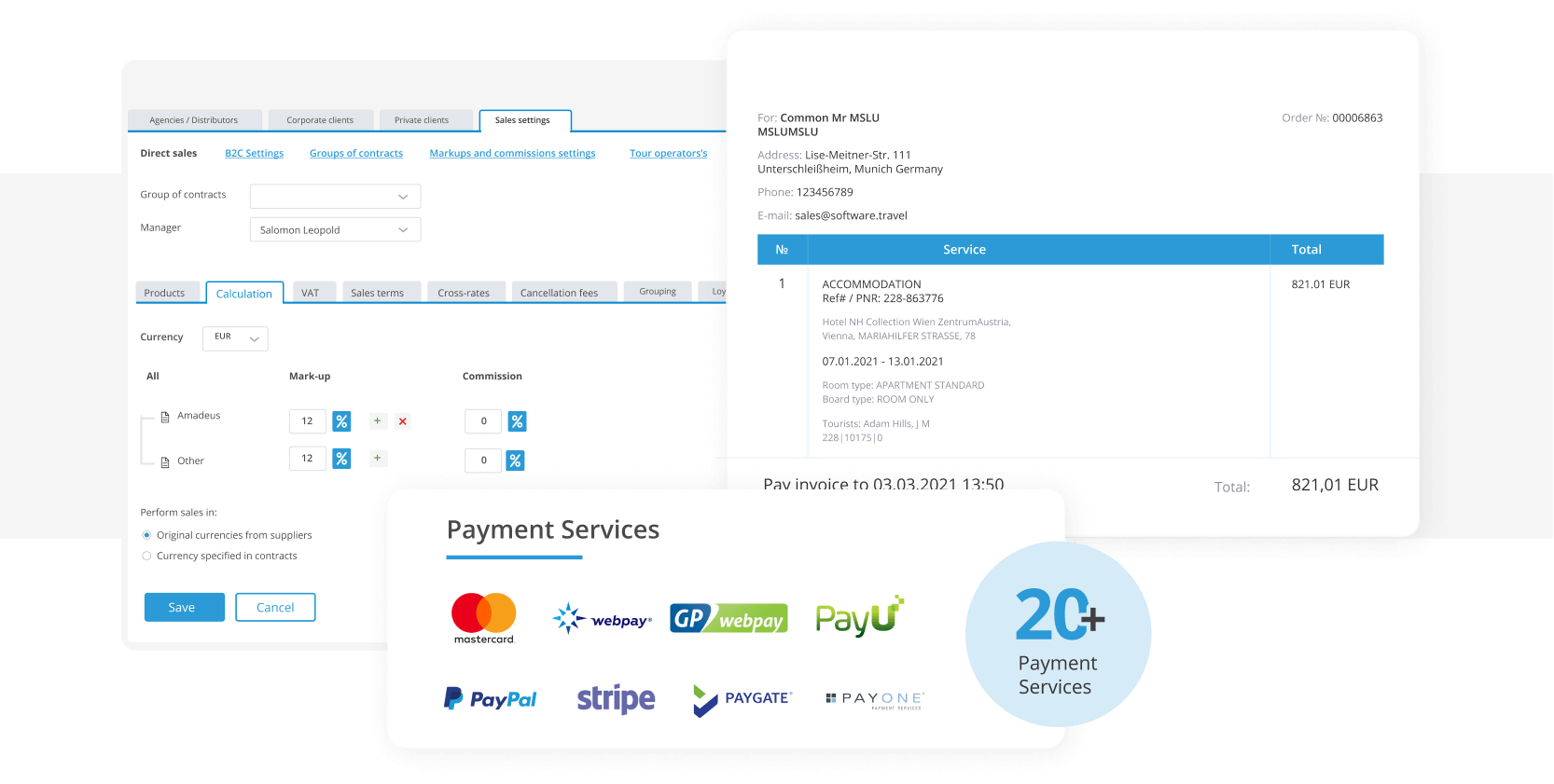 Automatic conversion of multiple currencies
Integration with financial institutions to fetch up-to-date exchange rates
Tracking and processing of invoices and payments
Reporting & Analytics
With all the data coming from the modules above and your internal systems, you'll be able to source and analyze multiple metrics, including: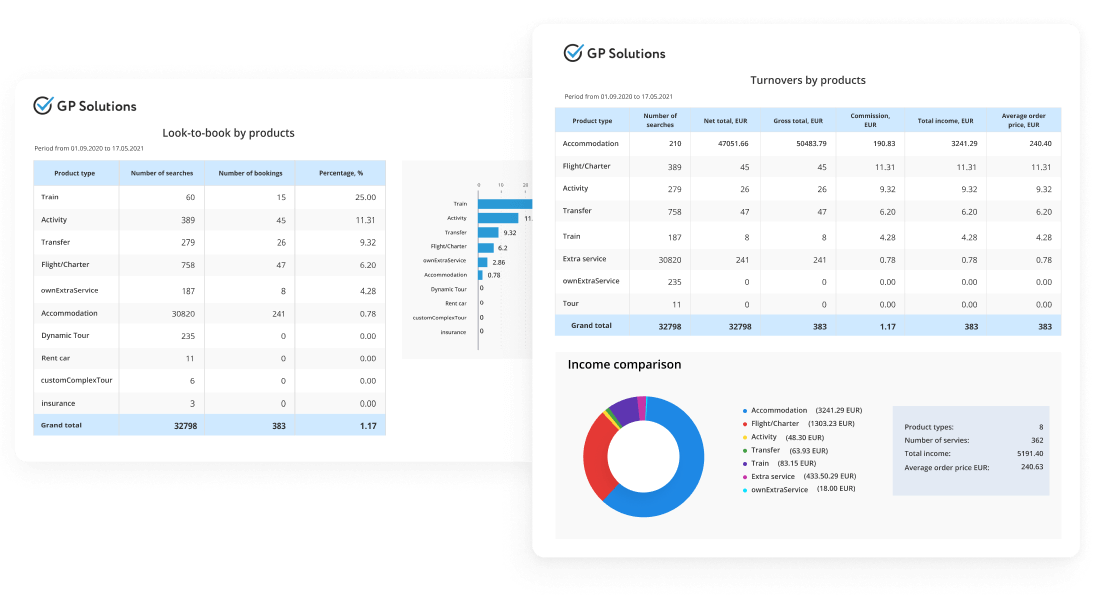 Booking reports
Booking lists by hotels, tours and more criteria
Financial reports for budget control
Advanced sales reports based on business intelligence algorithms
Learn more about how GP Solutions can help your business achieve its every goal!
Contact Us
We'd love to learn more about your ideas and business needs! Reach out to us to discuss the most efficient path to your business goals with our travel tech experts.