GP Travel Enterprise is an innovative and powerful travel automation solution for Tour Operators, OTAs, DMCs, TMCs and Wholesalers, which helps hundreds of companies across the globe to run and grow their businesses.
The platform consists of the following parts: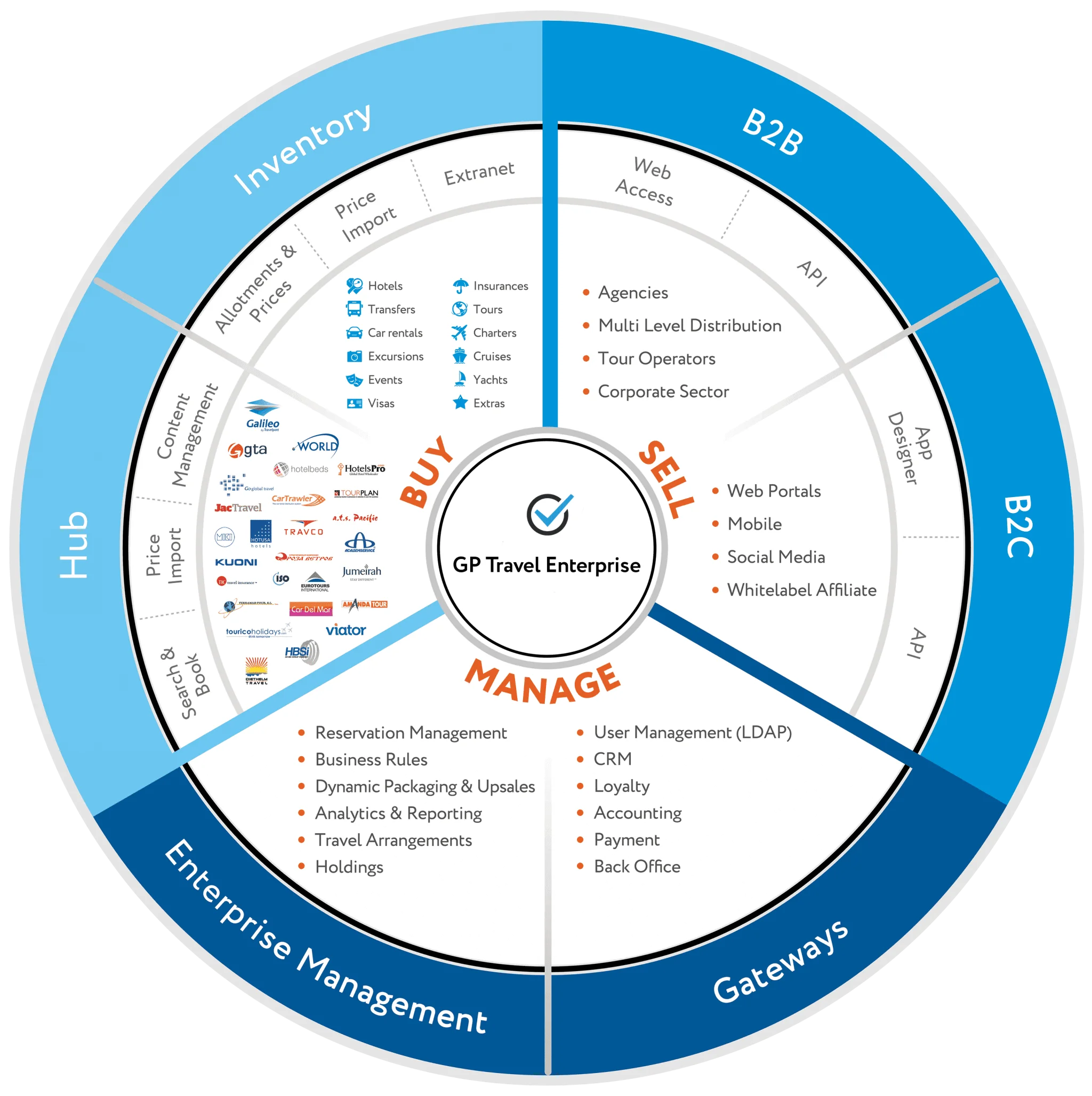 Inventory consists of modules responsible for management of self-operated travel products that allow a company to create its own travel offers (for example, sell the company's own transfers or excursions) and also add direct contracts with suppliers who don't have the possibility to be connected online.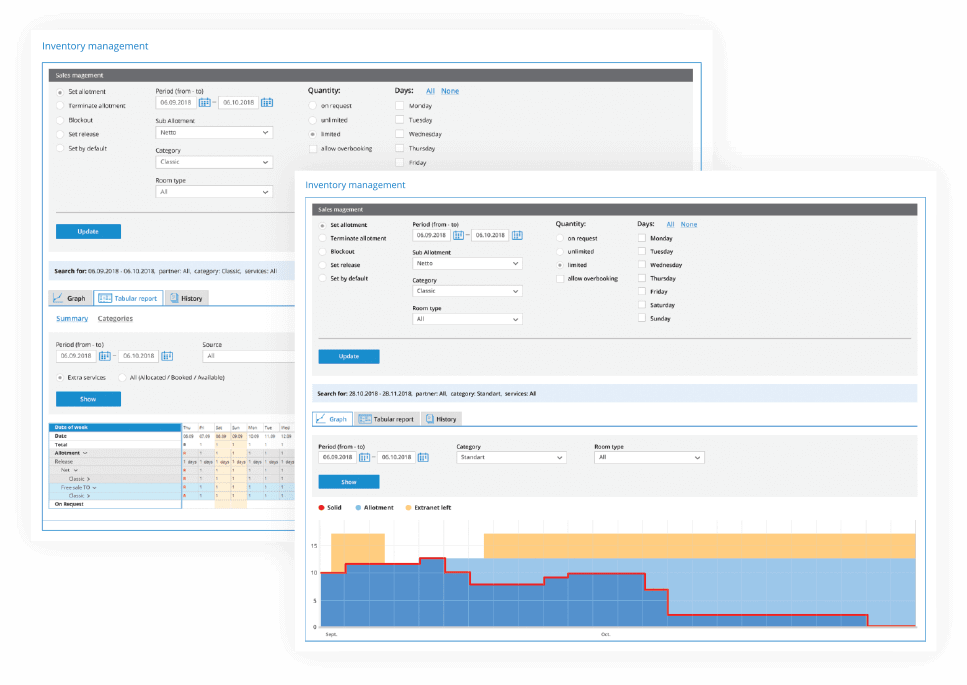 Represented by the following key functionalities:
Input of travel product descriptions
Pricing settings
Availability management
Thanks to these capabilities, it's possible to create various types of tourism services and place them for sale quickly.
Hub represents a unified API interface for integrating with various consolidators, bedbanks, aggregators, GDSs and other travel service providers. Its solid interface allows to maintain multiple suppliers in real-time and simultaneously receive current prices, manage, keep and synchronize the data.
Supports integration with:
Global Distribution systems (GDSs)
Hotels consolidators and channel managers
Transfer and excursion providers
Incoming tour operators and Destination Management Companies (DMCs)
Online booking websites
Car rental companies and consolidators
Insurance companies
Excursion and activity providers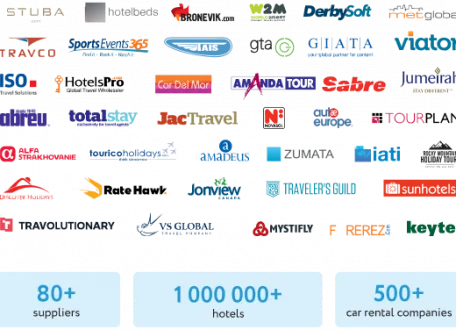 The main purpose of Hub is to encapsulate specifics of each travel supplier and allow to access information from dozens of them via a unified interface. Thus, client applications do not need to account for the technical specifics of each separate supplier – Hub caters for standardized connection process.
B2B is an essential tool for selling travel products through all B2B channels – via own offices, call centers, travel agents. It also covers the sales process for corporate customers.
With this Module users can easily find the best offers from all available sources (travel suppliers, inventory), book them online in a single workplace and keep track of all reservations.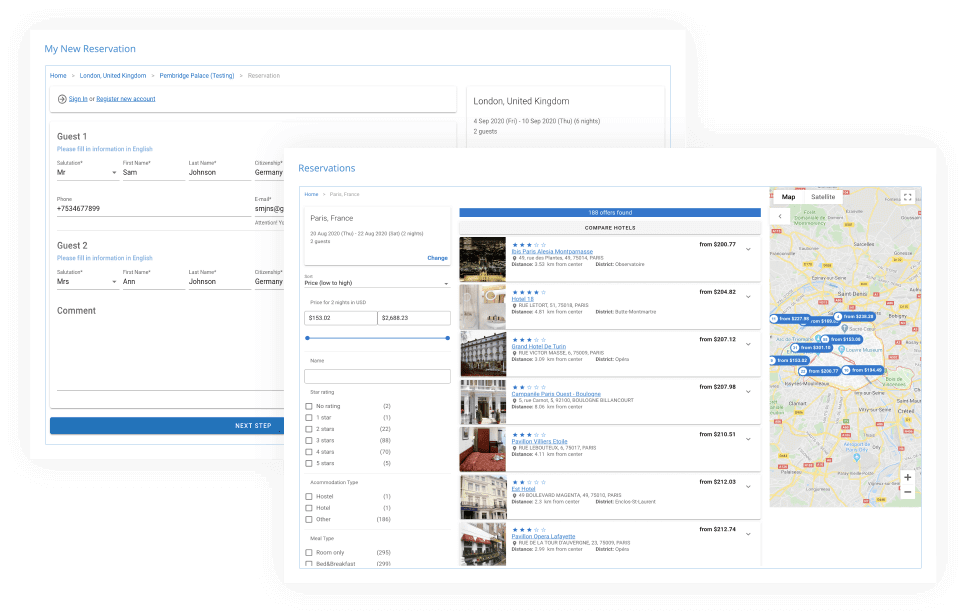 A single access point to search & book travel offers from online suppliers and own inventory
Creation of partner company accounts in your system and provision of system access to them
Development of multi-level agent networks to expand sales and work with corporate clients
Tracking offers distributed via various sales outlets
This complex all-in-one Module allows you to extend and diversify your sales channels.
A web application targeted at end consumers (travelers) to allow them search & book travel products online.
With the B2C Module, it's possible to address various challenges, such as:
Customizing new websites fully devoted to
online sales
Integrate search & book widgets into existing
web sites
Implement mobile applications for search & book
travel products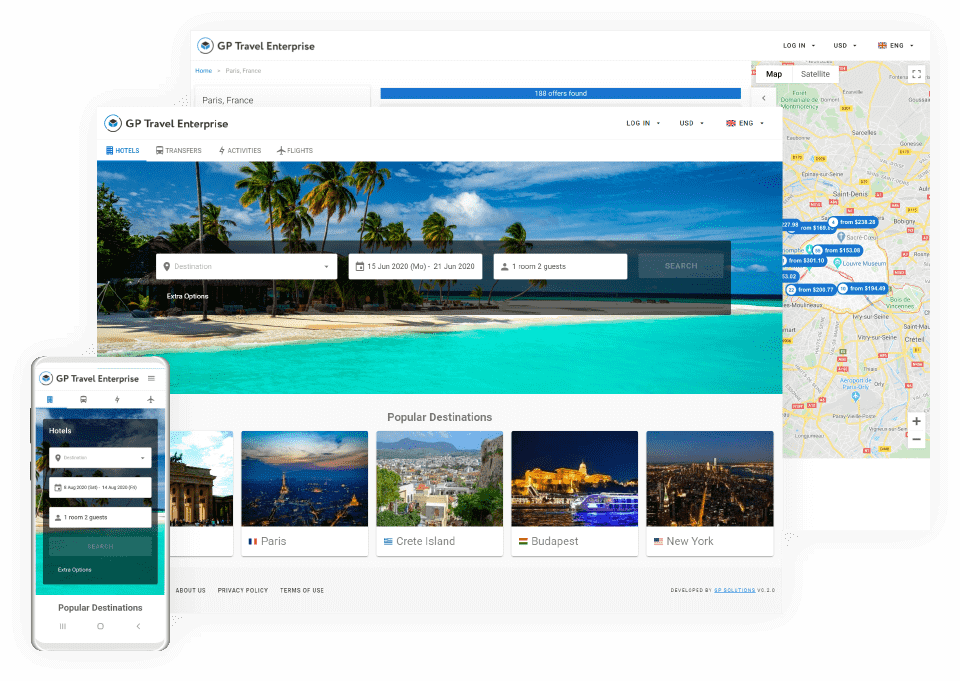 Unique design and brilliant look & feel always play a crucial part for B2C solutions. That is why it is so important to have such systems created exclusively and differently compared to your competitors.
Enterprise Management is a set of components that will help you configure sales of tourism services, cutting your time and effort needed to manage your workflows and get all the important analytics for decision making.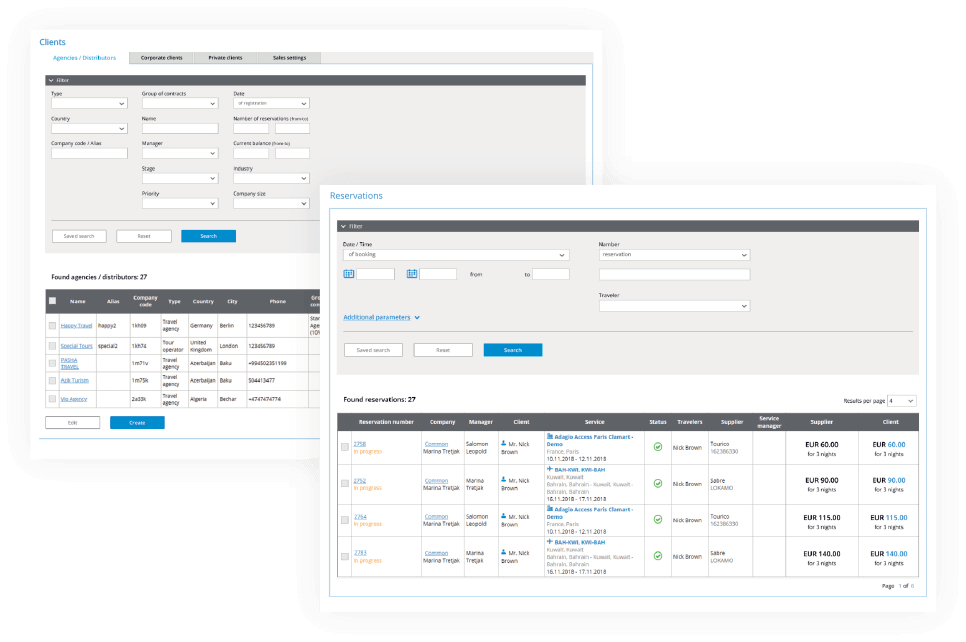 Configuration of product packaging logic
Advanced analytics and reporting functionality
Management of users and administrative control
Flexible business rules and sales logic
Multi-level distribution chains functionality
Customer loyalty programs and promotions
Accounting & Revenue Management Systems
CRM Systems
CMS Systems
Payment Service Providers
Other External Applications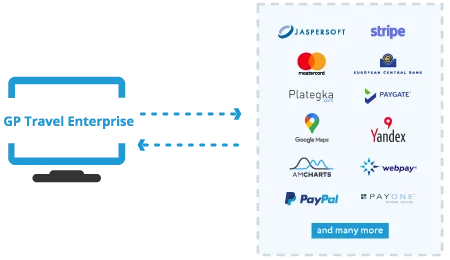 Supports the Majority of

Travel Products
Suits Different Business Models
Increase efficiency of your travel business to the next level with #1 tour operator ERP in the travel industry
From travel API integrations to full-fledged booking platform, we pitch in with a variety of solutions and services to boost your customer outreach and conversion
Maximize your revenue potential through sophisticated inventory management and multi-channel distribution
Wholesalers
Combine content and offers from multiple travel suppliers and your own contracted inventory and implement your unique distribution strategy
"I can highly recommend the services of GP Solutions. During the past 1.5 years, our company has been working with GP Solutions on a new project of ours. The company offers high quality services. We can say that we have always been satisfied by their work "
Dennis Behnsen, Vice President
Why GP Travel Enterprise
GP Travel Enterprise is an ERP travel management system offering numerous benefits to its users: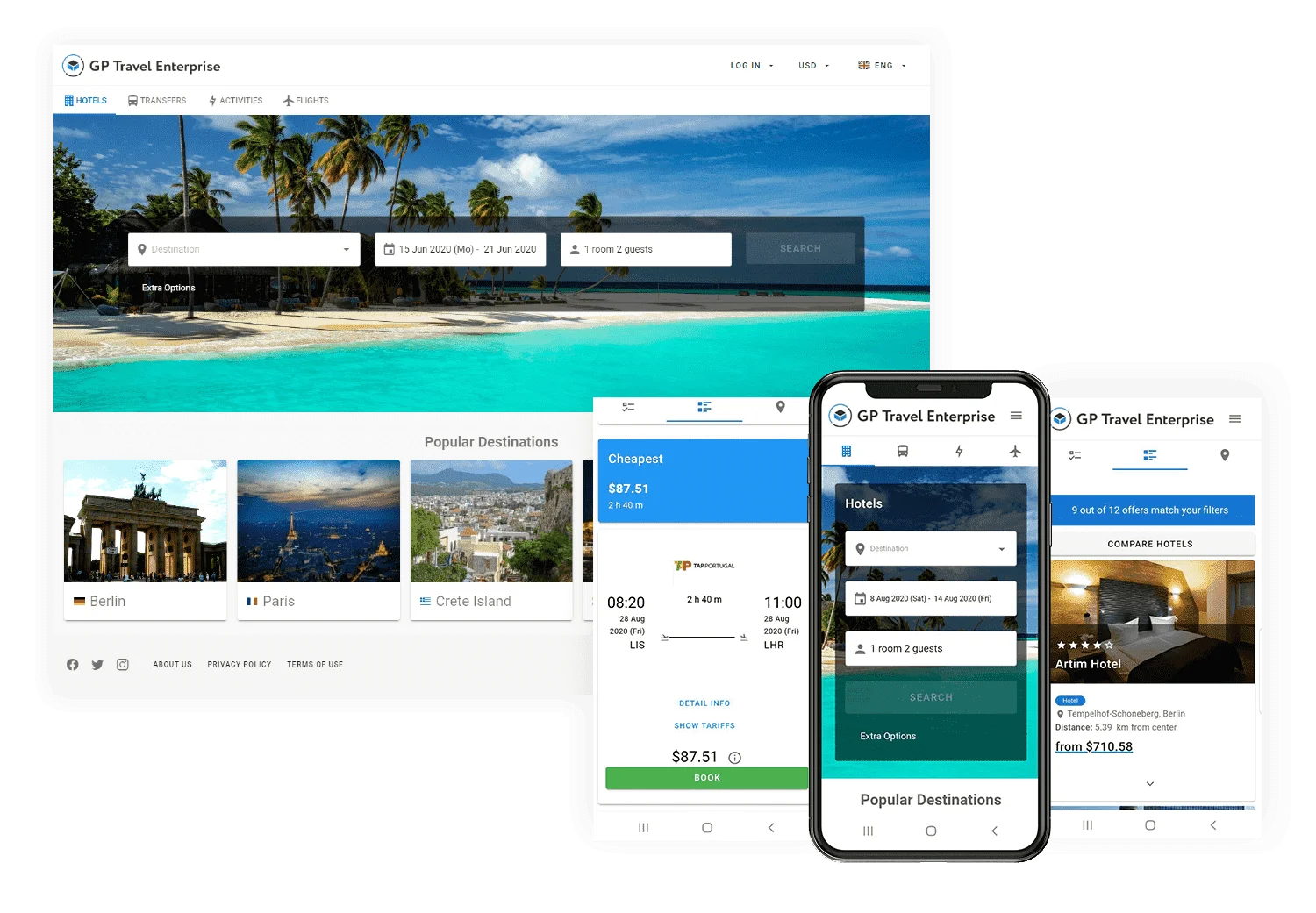 Time-Tested Travel Platform Technology


15+ years on the market

Modular Structure


150+ turnkey modules available

Scalable Architecture


system grows with your business

Dedicated Web-based Installation


accessible online 24/7 on private servers

Multi-lingual / Multi-currency support


designed for international markets

Adaptive Interfaces


cross-browser and mobile support
$4+
Billion Sales
generated annually
11+
Million Bookings
are made through our system
every year
99,9%
Service Uptime Rate
Already Have a System?

Consider our Complimentary Offerings!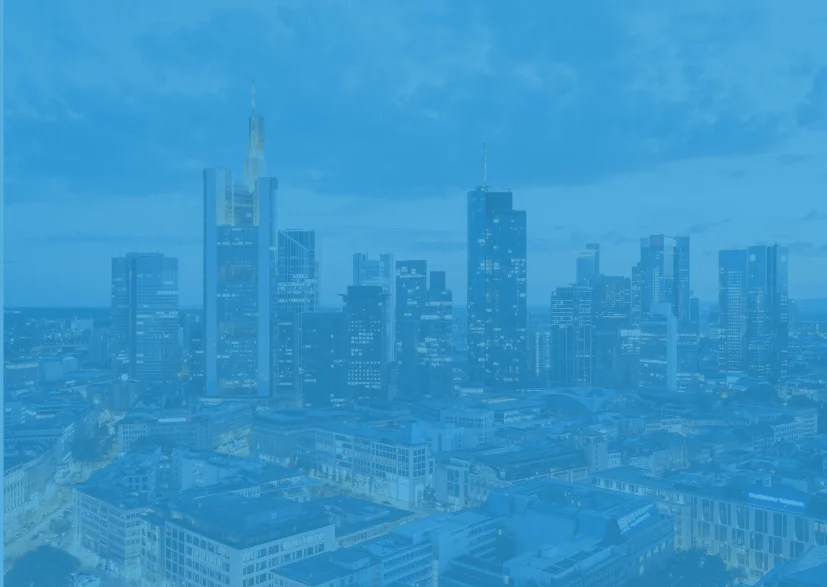 Want to Find Out More about Our Platform?

Contact Us
Leverage our one of the best-in-class travel ERP system to outperform the competition and achieve your revenue goals. Contact us now, and our travel technology experts will get back to you shortly.