PropertyVIEW®
Content Monitor by HotelPORT®
Unique third-party hotel distribution channel management and content audit software
Content is king
In online travel, descriptive content of your property is a key factor in a consumer's decision-making process. It directly correlates to the perceived value of your hotel or resort. This makes accurate representation in the search engines and other external distribution channels an extremely important matter.
PropertyVIEW® online hotel distribution channel management is a solution built in collaboration between GP Solutions and REBEL Travel Corporation - is a powerful proprietary Software-With-A-Service platform built to deliver in-depth audit of descriptive information and photographs across third-party channels. It offers a unique holistic view of your hotel content quality and status to help drive better conversion rates.
PropertyVIEW® Content Monitor is designed to bring value to: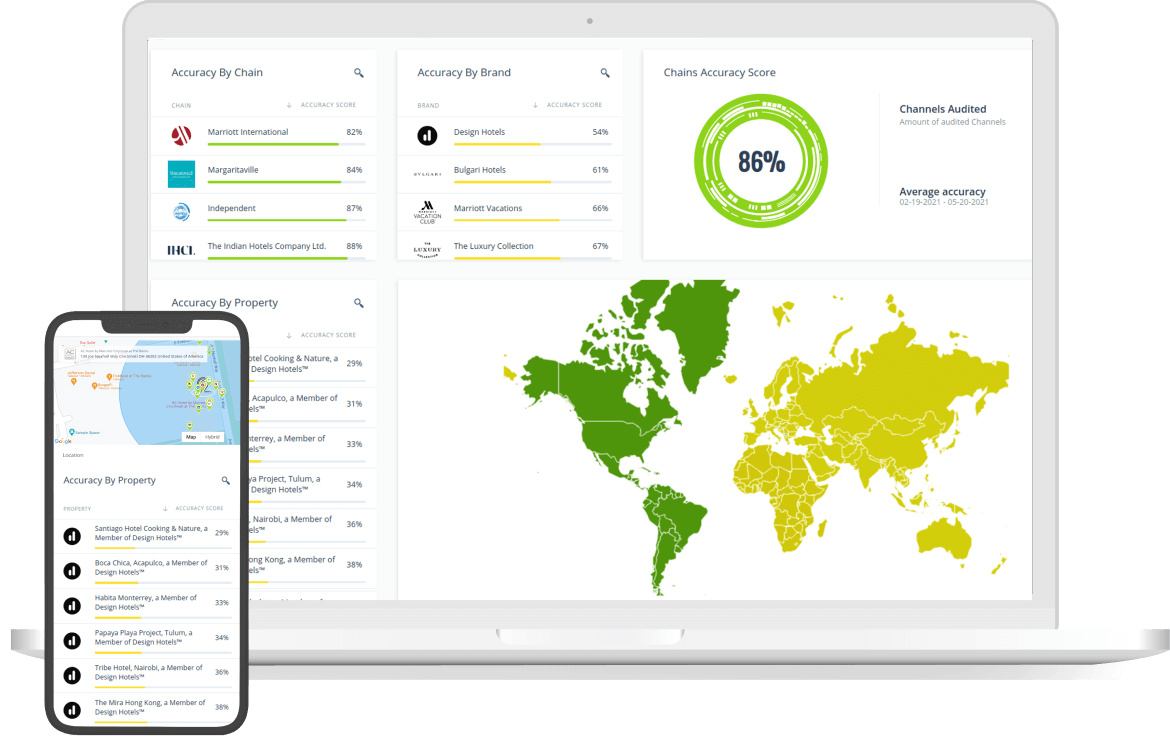 Hotel owners
Hotel chains
Independent properties
Hotel management companies
Unique in the industry, PropertyVIEW® Content Monitor by HotelPORT® was built by hotels for hotels. It is powered by the latest achievements in Artificial Intelligence and Machine Learning combined with human ingenuity to deliver the most advanced, flexible and comprehensive content verification solution in the hospitality industry.
Hotel Content Audit
as a Service
Operating as an extended arm of your distribution services team, PropertyVIEW® takes on the blocking and tackling of content audit across third party channels and intermediaries so that you can focus on the more strategic aspects of hotel distribution management and revenue generation.
Virtual Site Inspection (Brand/Vanity Hotel Website Audit)
Implementation (Content Loaded into PropertyVIEW)
PropertyVIEW Channel Alerts/Extranet Updates
Re-Audit to Confirm Updates
In addition to technology, human ingenuity is also a key part of the process. The tech side provides a snapshot of your hotel's third-party listing accuracy compared to a reference description and captures the Content Accuracy Score for your review on the dashboard.
But the next step is that an experienced team of content auditors helps facilitate updates, make changes and maintain long-term management of hotel listings and information. Software backed by high-quality service.
Complete and Accurate
Data Representation
PropertyVIEW® proactively audits and validates a diverse range of hotel description details on 3rd-party channels:
Address
Hotel name
Phone
Amenities
Pictures & Photos
Star rating
Fax
Email
Category
Geo Coordinates
Description
As a result you get rich and accurate property descriptions where you need them, at all times.
Your hotel listing: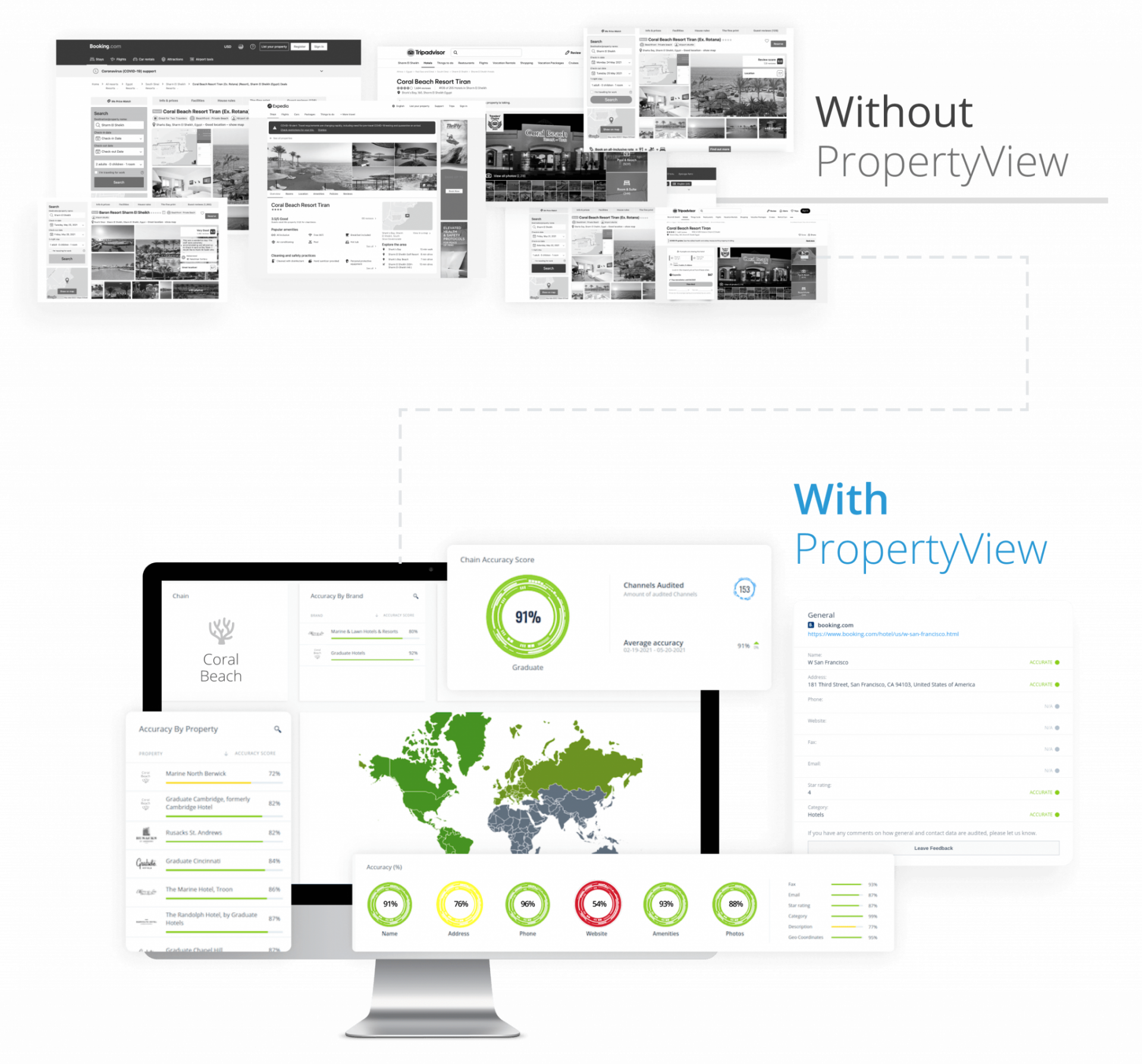 Hotel Distribution
Channels That Matter
PropertyVIEW® service provides budget-friendly options to help regain control over your online presence on the top channels representing Billions of unique monthly site visitors.
Channels Types Supported:
Metasearch Engines
Global Distribution Systems
Your Branded Website
Tour Operators
Destination marketing organizations (DMOs)
Online Travel Agencies (OTAs)
Key distribution channels already on our list
Why PropertyVIEW® is Valuable
Proactive approach
Most hotel groups or management companies are just chasing fires when it comes to content on third-party channels.Our content verification service sets up a process to make sure your content is accurate at all times.
Increased income
Our solution ensures accurate content that leads to increased revenue performance,
more reservations from distribution channels, classification, and competitiveness
Time saved for core business
By letting our experienced team handle your content accuracy you free up your time that can be dedicated to core business and more strategic pursuits.
Trusted by Top Hospitality Companies
The world's smartest and best hotel ownership groups, management companies, chains, brands, and independents already use PropertyVIEW® channel management software to improve their online distribution.












Give yourself peace of mind by adding PropertyVIEW® technology to your online distribution strategy
Contact Us
Connect with us with a brief outline of your needs and our Sales Team will get back to you to suggest the most appropriate option for cooperation.