Online Travel Agency Software
We reinforce omni-channel booking experience
with full-scale automation of your business processes
Specialized software for travel agencies is one of the key directions at GP Solutions. This makes us well-positioned to help you jumpstart or upgrade your business with solutions that were created specifically for this purpose:
Full-cycle reservation management automation

A selection of ready-made website templates for
web and mobil

Data consistency across all channels
Access to 80+ suppliers and GDSs

Multi-language and multi-currency support for
global agencies

On-demand custom development
Manage
Customer Relationships
Talk to us today about your needs and expectations from your new Online Travel Agency software
Digital Booking Experience
We at GP Solutions know that your customers are looking for unmatched omni-channel booking experience. To deliver it, we create mouth-watering user interfaces supported with powerful user cabinets. Here's how:
Online Booking Portals
We build B2C travel portals with attention to customer journeys, from the first glance at your product selection to booking forms.
We don't limit your choice of available portal development options, so that you could make full use of our ready-made templates, booking widgets, or custom design.
Intuitive search and booking
Seamless checkout
Multi-supplier bookings in a single order
Cross-selling and upsale features
Personalized recommendation engine
Booking reports by supplier, inventory type, and channel
Travel API Integration
We've laid the foundation of many successful travel businesses with our groundbreaking GP Travel Hub. As a holistic API gateway to 80+ suppliers, it's ready to serve you thousands of travel products, from rooms to car rentals, in an instant. As an addition, we can deliver fully custom API integrations with the suppliers of your choice.
Cut your time to market
Get access to world-famous suppliers
Expand product choice for your customers
Increase your margin on best offers
Inventory & Dynamic Pricing
With our travel agency booking software, you can easily get a hold of inventory control, whether it's your self-operated travel products or those from third-party suppliers.
To help you leverage your portfolio, we also made dynamic price management available for the entire range of travel products, from flights to ancillary services. With our automated tools, you'll be able to configure flexible pricing for every inventory type as well as for multi-product travel packages.
Control availability in real time
Design special offers and discounts
Set dynamic prices for packages
Switch back and forth between currencies
Responsive Interfaces & Custom Mobile Apps
To support your channel-agnostic business strategy, your travel agency platform will come with a responsive mobile interface by default. Additionally, we can pair it up with matching mobile apps developed on request. Altogether, this will give you next-level sales generation tools, especially if you target Millennials and Gen Z.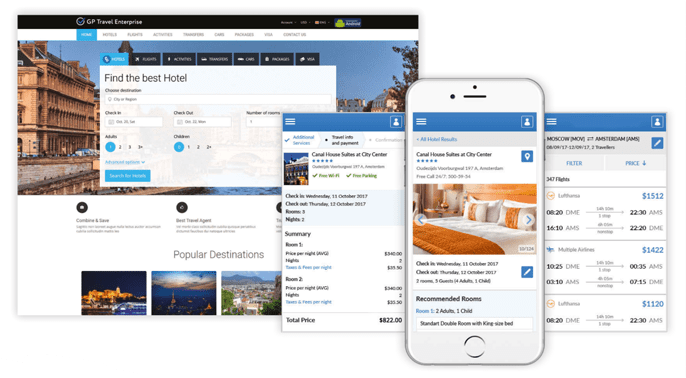 Marketing and Sales Management
Whether you opt for a combination of our out-of-the-box modules or choose custom-built solutions, we'll give your marketing and sales departments a boost with these core business development tools:
Customer loyalty

Set up your original loyalty schemes and track their performance across channels to foster repeat bookings.

Affiliate programs

Expand your outreach to partner websites and manage your affiliate network effortlessly to increase your revenue streams.
CRM systems

Choose our CRM module or integrate your own tool with our travel reservation system for 360-degree customer management.

Email marketing

Speed up and simplify this task with bulk emails to the client base, email templates, and personalization based on relevant client details stored in the system.
Your Back-office Workflows, Automated
Our online travel agency software is designed to take care of every business-critical workflow that happens in the back-office.

Payments & invoices

We offer a range of configurable payment methods up for integration, as well as end-to-end automation of invoice issuing and tracking.

Finance management

We enable API integration of accounting tools, all tightly interconnected with the core travel agency reservation system.
Reporting & analytics

More than just nice-to-haves, these reporting and analytics tools cover essentially every metric an OTA needs to make informed decisions and plans.

Single-point-of-truth data access

Across customer touchpoints and internal systems, we ensure data synchronization and partner access for fail-proof collaboration.
Choose Your Travel Agency Software
Pick your options out of our extensive and flexible portfolio of both products and services to create your power mix of travel agency reservation software and back-office tools.

Our renowned enterprise-grade travel management platform serves up over 150 configurable modules. We are ready to guide your choice and fine-tune any of them to create your all-round travel reservation system.
Complete functionality for OTA management automation

B2C and B2B sales support

Out-of-the-box frontends with app designers and booking widgets

Back-office gateways for integration with third-party tools and internal systems

Our team will be happy to bring your ideas to life, whether you're a travel tech startup or a seasoned global travel agency. Our flexible offering works well for innovative OTAs looking to build their services around unconventional business models.
GP Travel Hub + Custom Development
We offer custom development around our GP Travel Hub gateway. Here, you have instant access to suppliers of your choice, all wrapped up in custom client-side and back-office functionality.
Custom Development only
Recognizing your unique needs, we tailor our services to your precise requirements. Feel free to request your original solution of any functional scope, and we'll be happy to help.

Having relied on GP's long-standing development expertise, Aclass A/S managed to boost the business and increase the turnovers several times over.
"We found GP Solutions' team to be professional, dependable and responsive. "
Claus Palmgren Jessen, Managing Director, Aclass A/S

Let's get in touch to discuss
how we can be of Value to You

Drop us a line now to learn more about the ways to rev up
your digital needs with a travel automation solution.