Bespoke Travel Software
We deliver unique travel technology solutions tailored to your needs and requirements
Bespoke software applications can often represent a much better choice for travel companies compared to the so-called ''off-the-shelf software'' (designed for everyone). They are unique and are built to properly meet and reflect the specifics of your business.
Our team has a long-standing expertise of building bespoke software for travel businesses of different types and specialization across the globe.

We Give You a Range of Options
Build Your Unique Solution from the Ground Up
Our experience of building bespoke travel solutions spans across our entire 19+ years of history. We combine in-depth domain knowledge and top-notch technical skill to deliver solutions that are just the right match for your technical and business needs.
We source high-quality bespoke development
In various development areas
Web Development
Mobile Development
Product Engineering
UI / UX Design
Enterprise Software Development
As different solutions
Travel Booking Engines
Mobile Apps
Bespoke Travel Websites
Metasearch Engines
Complex Business Process Automation
Unique Concept Implementations
Time-tested approach to bespoke development
Discovery phase and business analysis
Prior to any development activity our team collaborates with you to put together a complete vision and stack of project requirements. As a result, our team produces Backlog and Vision documents outlining technical requirements, business needs and a clear set of objectives and tasks to be completed.
Agile project management
We adhere to the latest Agile project management practices allowing us to meet any change requests and most urgent project needs. Regular backlog refinement and prioritization brings in flexibility that is sufficient to produce shippable project items at the end of every iteration.
Schedule management
During the initial project phases we come up with an agreed delivery plan for key project items. We closely monitor project timelines to ensure successful completion of all planned project milestones.
Risk and budget management
We control the project budget by closely monitoring costs reports and performance on a regular basis. In case of limited budgets, assigned PMs will promptly inform project owners in case a limit is close to being reached. In addition we identify, document and assess all project risks and their potential impact on development budgets.
Schedule management
We make all the necessary arrangements to ensure streamlined and transparent project communication. We strive to reduce a number of information exchange routes and provide customers with a single point of communication using proven project management and task tracking tools.
On-going support and maintenance
By default we provide complete technical support and maintenance of all bespoke systems we deliver according to SLA agreements signed with every customer. An SLA normally stipulates types of system issues and specific reaction times to address each of them.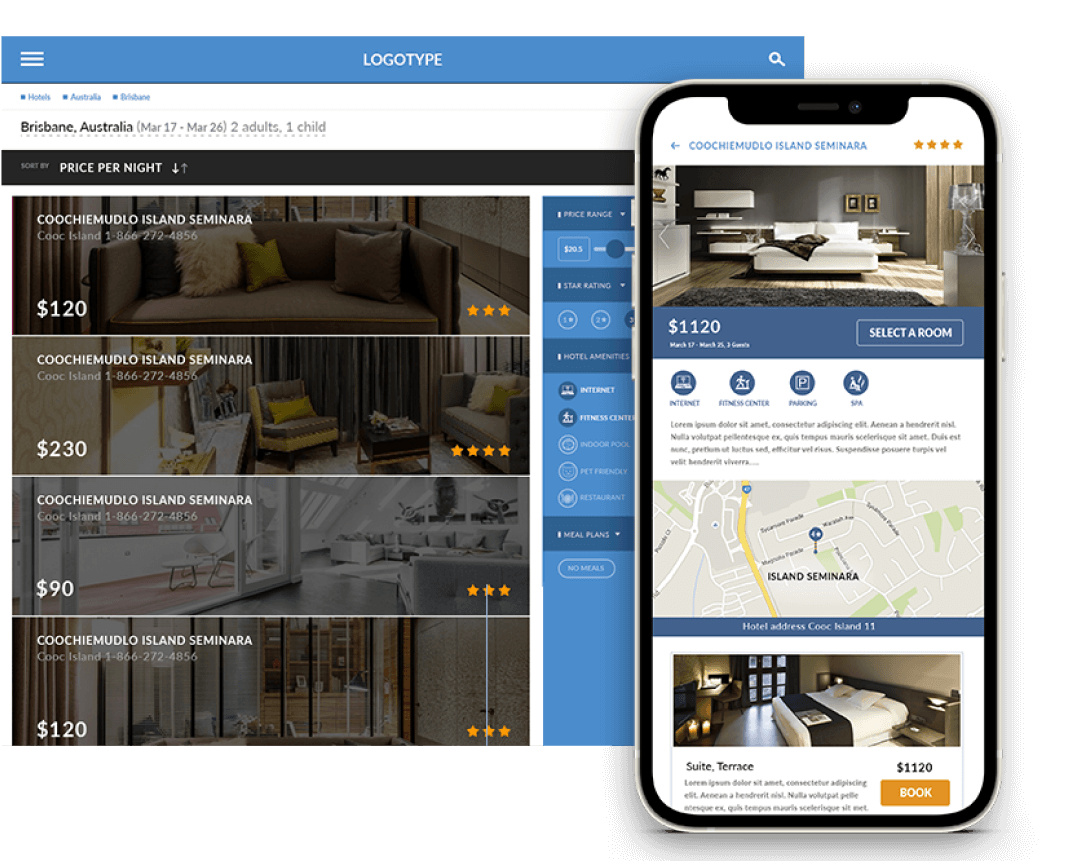 Development of a Brand-new Online Booking Portal
GP Solutions delivered an innovative travel booking portal covering B2B and B2C sales for established US-based marketing and technology corporation.
We Improve Legacy Travel Software
Technology is advancing at a breathtaking pace. Any solution, no matter how modern and advanced at the time of its release, becomes obsolete and requires renovation. The travel market in general also puts extra pressure on existing solutions in terms of performance and design.
Our team can perform a range of activities which can help renovate, improve performance or scale up your existing solution to drive better customer engagement and more bookings.
Gap Analysis
In case your existing solution is underperforming, our specialists can run an in-depth assessment and suggest steps that should be taken to make sure your current software fully meets its business objectives. This activity is usually part of a complex system redesign, but can also be offered as a separate service.
Code Reviews
We can prepare a conscious and structured report on the current state of code in your application relying on our long-standing expertise in travel software development. When done right, a code review:
Streamlines the development process
Drastically reduces the amount of QA effort
Save your time by focusing on what matters
Code Refactoring
This is the right choice if you need to improve code productivity without changing external behaviour of your application.
Improved architecture;
Better code readability;
Easier code maintenance.
Extension of Legacy Systems
As the need might be, our experts can develop additional functionality to extend your current system capabilities in different areas:
B2C and B2B travel sales;
Reservation management;
Travel supplier management, etc.
Completion of Legacy Projects
We can take up your project at any production stage and continue where your previous team left off. We'll start with a detailed documentation study and code review to suggest the most productive and time-saving way that can lead the project to its logical completion.
Third-party Travel
Software Integrations
We can get your software connected to external travel systems that will drive better functionality and performance for your business. While expanding your capabilities, additional travel integrations we add keep your data up-to-date and consistent across your software infrastructure.
Our travel integration experience
We've accumulated strong expertise in B2B supplier integrations. Our team can connect you to diverse system types, including: GDSs, flight consolidators, bedbanks, transfer wholesalers, саг rental and sightseeings aggregators, etc.
We can get them connected for your as standalone integrations or with the help of our proprietary aggregator GP Travel Hub.
In addition to B2B suppliers, our integration team can plug you into a number of other systems commonly used in travel booking workflows:
Channel managers (YieldPlanet, SiteMinder, DerbySoft, etc.)
Content suppliers (for ex.,GIATA, Tripadvisor, etc.);
Mapping suppliers (GIATA, Gimmonix, DataBindR, etc.);
Online maps (Google Maps, YandexMaps. etc.)
Get in Touch Now to Discuss Your Bespoke Development Project
Contact Us
Connect with us with a brief outline of your needs and our Sales Team will get back to you to suggest the most appropriate option for cooperation.