The diversity and complexity of travel suppliers' technical specs is immense. GP Solutions is here to help so that you can focus more on your business side and leave technicalities to us.
Travel API integrations give you easy and transparent access to thousands of third-party travel offers. This is your opportunity to become the online destination of choice for travelers and partners by offering a wide selection of travel products as separate services or packages.
We Integrate Travel APIs For:
Stay Connected to Travel Industry on a New Scale
Implementing multiple travel API integrations with your existing or upcoming reservation software will give a boost to your business – and here's how:
Aggregate prices from multiple sources to provide a much more diverse offering to your clients.

Maximize your revenue by choosing the most competitive offers among multiple suppliers.
Keep all the integrations updated at all times with no need to care about it yourself – our team will handle it for you.

Grow from local to global by plugging in to static and descriptive travel data from multiple sources.
In travel technology for 19+ years, we'll be happy to share more reasons for you to go for travel API integrations to your website with us.
Connect to Market-leading Suppliers
We tailored our APIs integration services around the full list of travel products. Whether you're looking for flight or hotel xml/json API connections, you are sure to find them in our extensive list of travel API providers at your choice.
Your Travel API Integration Options
We offer two routes to seamlessly connect your backend with your top market suppliers of choice. You are free to go either way: to integrate our ready-made GP Travel Hub and benefit from 80+ existing connections to different suppliers, or order a completely custom solution, be it for hotel, flight, ticket or any other type of travel product search and booking API integration.
Since 2008, our original GP Travel Hub has been serving as a travel APIs gateway for hundreds of our customers worldwide.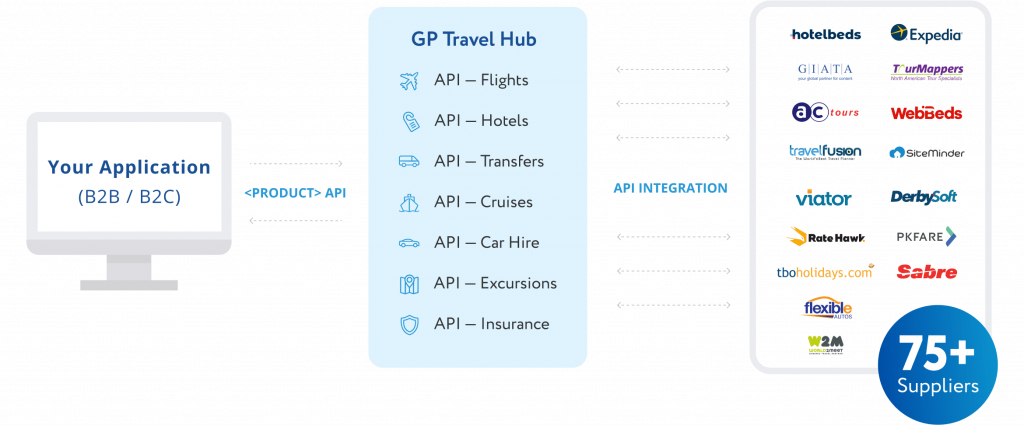 Featured Connectors
Quick launch and minimized time to market
Tick Real-time data synchronization
99,9%
Uptime Rate
Simplified certification process with preferred suppliers
Hotel mapping support
2. Go Custom with Bespoke Integrations
This is your way to enrich the systems you're already using with custom travel API integrations. Once you pick this option, we'll ramp up a team of dedicated integration developers to deliver all the required services. We work with any programming languages and frameworks so that you don't have to compromise on your preferred technologies.
Lift stressful integration workload off your IT team's shoulders
Leverage our specialized travel technology expertise
Fully own the process and the intellectual property that goes in it
Save your integration costs on our competitive rates.
"Due to their experience in travel IT we've selected GP Solutions GmbH to work on a custom project for Afrika-Safari, which involved interaction with Amadeus. We found GP team to be professional, dependable and responsive. We are pleased to recommend GP Solutions GmbH as a reliable travel technology partner."
Claus Palmgren Jessen, Managing Director
Our Travel XML API Integration Roadmap
We zero in on the ease and transparency of cooperation, be it a one-time integration or an ongoing partnership. That's how we set up this plain and straightforward process to get your travel product integrations up and running.
1. Getting in touch
Understanding your requirements is a must for us to help you pick the right integration scope and model. Drop us your request and we'll set off to come up with a personalized offer and all the information.
2. Expert consultation
We'll go on clarifying your business goals and refining your project scope. At this stage, you will know the complete action plan along with the cost and time breakdown.
3. Project kick-off
Once we're on the same page, we'll kick off the installation of your travel software. You'll be keeping track of the progress through regular status updates and reports.
4. Guaranteed post-integration support
Suppliers keep changing and updating their APIs, but we've already thought about that. To keep your integrations up, we provide ongoing technical support for a flat monthly fee per connector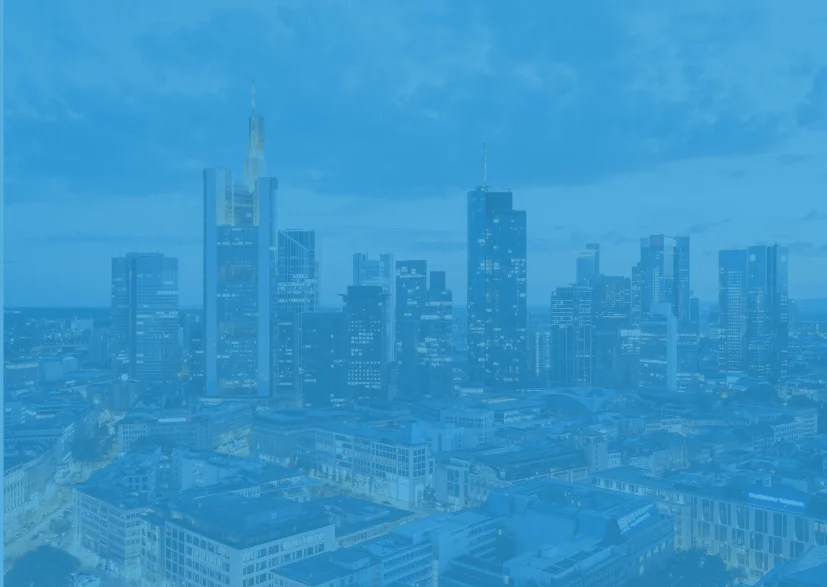 Our customers made integrations with different travel APIs their business development application. Stay by GP Solutions to take this step easily.
Contact Us
Reach out to us and our team will dive deep into your specific requirements and start the development right away!