Travel Portal Software Development
We deliver travel portal development to create your prime channel of online sales
GP Solutions tops up its extensive range of travel tech solutions with travel portal development services to build highly productive digital booking and sales outlets.
$4+
Billion Sales
generated annually
11+
Million Bookings are made
through our system every year
350+
350+ integrations of travel suppliers APIs
450+
Projects successfully
implemented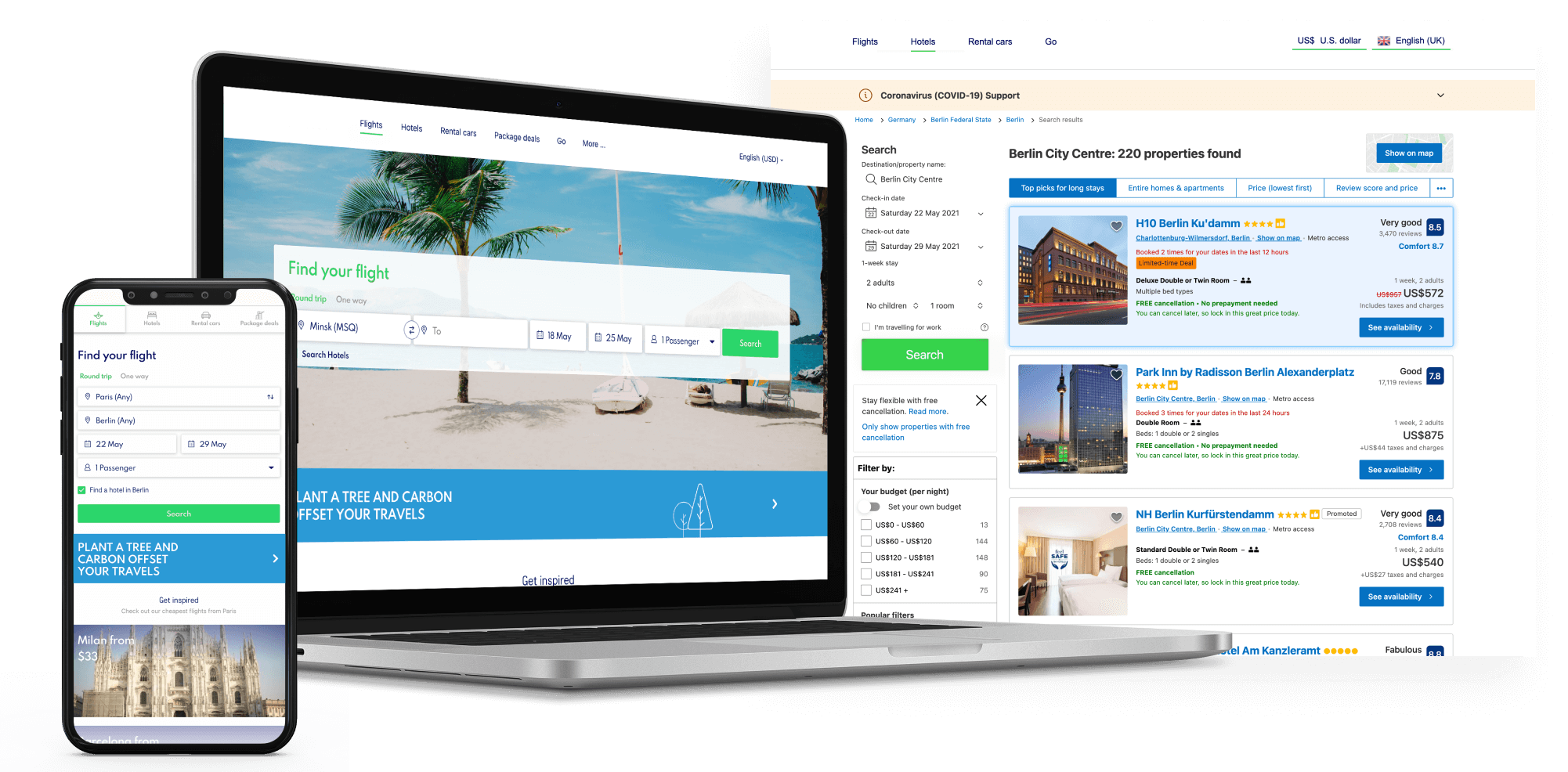 We've built travel portals for:
Our travel portals efficiently support complete search & book flows for:
Flights
Hotels
Transfers
Railway
Apartments
Villas
Activities
Car Hire
Excursions
Cruises & Ferries
Tour Packages
Complete functionality for your travel portal
Whether built from the ground up or integrated from our proprietary solutions, we can deliver fully-fledged functionality to equip your portal with every essential element required for excellent customer experience:

Secure checkout process
Booking confirmations
Booking status notifications
Complete travel documentation (vouchers, invoices, price-lists, etc.)
Payment gateway integrations
Reservation management
Reporting & Analytics
Up-sell/cross-sell options
Search & book functionality
Deal comparison
Advanced business rules functionality
Detailed product descriptions with high-res graphics
Development Options
We serve you up with three routes to take for developing your online travel portal:
Robust Suite of Capabilities
for Your Travel Portal
We've been refining our technologies for almost two decades to build a versatile suite of solutions for travel portal development. Fit for both web and mobile, they come as customizable off-the-shelf products or bespoke software.
Below is an overview of the capabilities enabled by our solutions for your business:
Serve B2B and B2C audiences
You can effectively use our solutions to cater for individual travelers, travel agents, your partners (travel agencies and tour operators) and corporate clients.
You are free to use our out-of-the-box portal builder with a default template or opt for API integration of GP Travel Enterprise modules with your custom-made website to turn it into a full-fledged travel booking portal.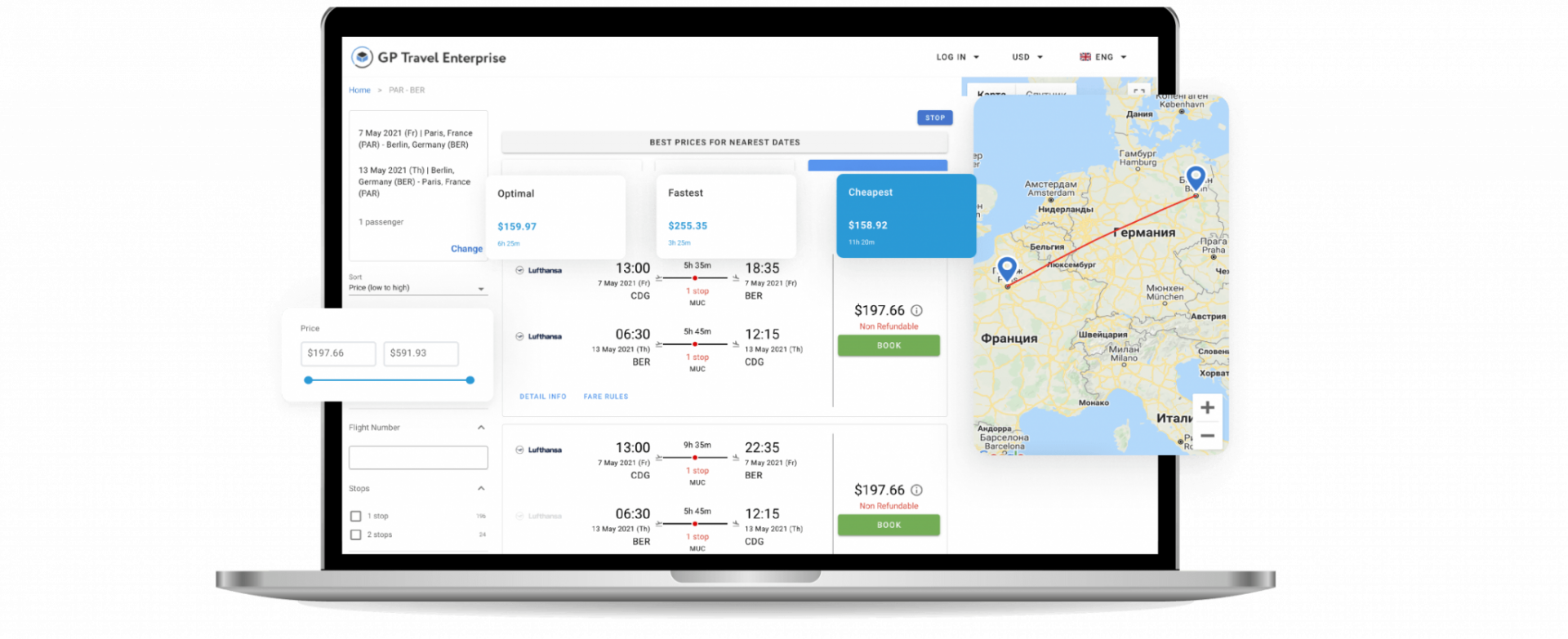 B2C
Build your B2C white label travel portal or integrate search&book widgets into your existing website using a template or custom design. Extra options include integration of your booking forms into affiliate websites for a much wider outreach.
B2B
Build a dedicated online B2B travel portal or provide your corporate clients and distributors with direct access to your booking system with personal accounts, configurable markups and commissions. You can also enjoy unique multi-level distribution network functionality to distribute via multiple partner tour operators and sub-agencies.
Sell self-operated or third-party inventory
Unlike other development companies, GP Solutions caters for any business model used by travel businesses. We make sure your online travel portal software can accommodate both your own travel product and the offering contracted from third party.

Integrate with 75+ leading suppliers, such as GDSs, bedbanks, flight aggregators, OTAs, Channel Managers, CRSs, Content Suppliers, Mapping Service Providers and others.
You can also easily manage listed inventory descriptions to maximize their marketing appeal to your audiences.
Create your own travel products and put them online while managing them from one place.
Your inventory can include a broad scope of product types, from self-operated charters and accommodation to car hire and insurance, which can be wrapped into complex and dynamic packages if required.
Keep control over your pricing and finances
Our Business rules engine enables configurable pricing policies (markups, commissions, penalties) for different channels and types of distributors. It also allows creating and managing rule-based discounts and special offers.
Other modules cover your complete financial workflow management, which can also be enabled through integration with your third-party accounting systems.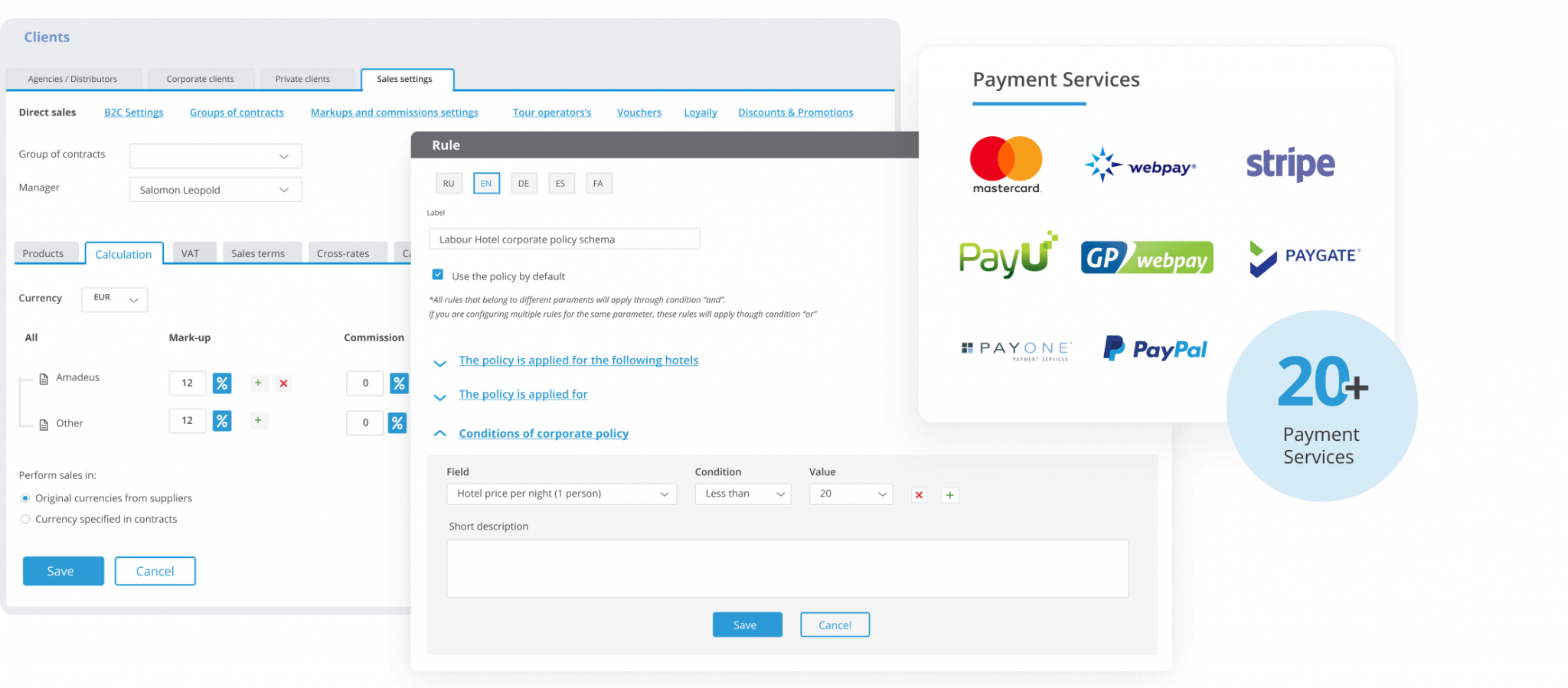 Integrate with market-leading payment providers
Our solutions feature built-in gateways to 20+ online well-known payment providers so that you can enable secure and fast checkout for your customers' online payments.
Sell in multiple
currencies
Our travel booking portal software supports multi-currency calculations. You can either enter exchange rates manually or integrate specialized feeds from the official financial institutions' data, all available within our platform.
Reach a wider audience via mobile interfaces
Our travel portal solutions can be delivered with sleek and highly functional mobile-oriented interfaces supporting complete booking flows for any travel product you choose to sell. Increase your visibility and coverage amongst mobile device users via:
Adaptive website layouts
All our off-the-shelf templates are built to support nicely arranged booking layouts in popular mobile browsers like Chrome, Mozilla, Safari, etc.
Native mobile apps
We provide a ready-made Android booking app customizable to your needs. Our team can also build unique Android and iOS applications according to specific requirements.
Stay In Touch via Online Chats
We build online chats into our travel portal solutions to provide your visitors with a handy tool to communicate with you directly. This ensures a higher visitor engagement and makes your booking assistance easier.
We'll also integrate the online chat tightly with your reservation management system so that no booking request is missed.
Run analysis with on-demand booking reports
Our travel portal software provides visualized reports on sales performance and financial metrics. On top of that, advanced analytics is available through our system.
With this range of on-demand reports you can get a deeper understanding of your travel business in terms of:
Look-to-book ratios
Bookings by travel product type
Sales by suppliers, clients, agencies, regions and more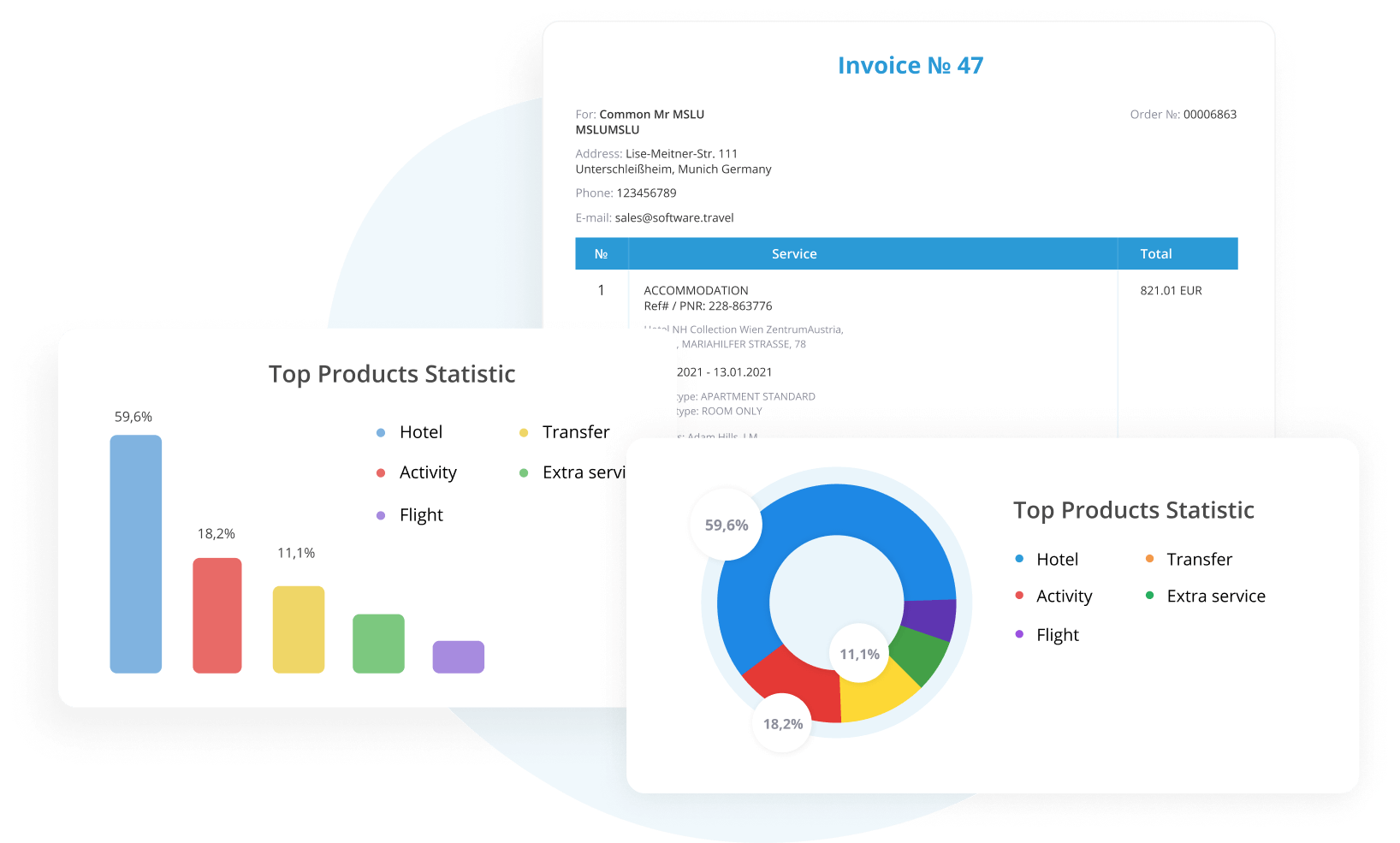 Our Travel Portal Software Integration Roadmap
For each client we assign a Customer Success Manager who leads a project that goes through a set of sequential phases:
Getting in touch
Understanding your requirements is a must for us to help you pick the right integration scope and model. Drop us your request and we'll set off to come up with a personalized proposal and all the information about pricing, engagement models etc.
Expert consultation
We'll go on clarifying your business goals and refining your project scope, usually formalized as separately arranged 'Vision' and 'Backlog' documents. At this stage, you will know the complete action plan along with the cost and delivery schedule.
Project kick-off
Once we're on the same page, we'll kick off the setup of your travel software and proceed to implement any custom developments agreed upon during analysis. You'll be keeping track of the progress through regular status updates provided by the Customer Success Manager.
Post-Launch
We deliver on-going support and maintenance of the solution along with continuous upgrades as part of new releases and / or upon your personal request.
Launch
We launch the solution into operation (LIVE mode) - in full or split into steps as agreed.
Training phase
Once we're on the same page, we'll kick off the setup of your travel software and proceed to implement any custom developments agreed upon during analysis. You'll be keeping track of the progress through regular status updates provided by the Customer Success Manager.
Let's discuss your travel portal development project in detail.
Contact Us
Connect with us with a brief outline of your needs and our Sales Team will get back to you to suggest the most appropriate option for cooperation.