The use of online technology is growing at a breathtaking pace in all spheres of human activity. Travel industry is no exception here — and it is easily proven with numbers. For example, the online travel agency (OTA) market share alone increased by 7,9% from 2015 to 2020. And despite COVID-19 which caused a significant decline (while it is noteworthy that the online share in overall travel sales skyrocketed), the online market is predicted to rise like a phoenix — by 14,8% from 2021 to 2023. Thus, the introduction of modern online technology and projects is vital for any travel business — big or small, be it an OTA, a tour operator, a hospitality business, or else.
It always takes a strong team to handle your travel tech. But here comes the classic dilemma: which development approach will work best — in-house development or outsourcing? It is impossible to state firmly which option is better overall. The final decision is usually made case by case depending on project objectives, scope and the tech expertise available within your organization. With that said, there is still a number of distinct pros and cons specific for each of the mentioned approaches. It is quite critical to be aware of them in order to make the right choice for your project.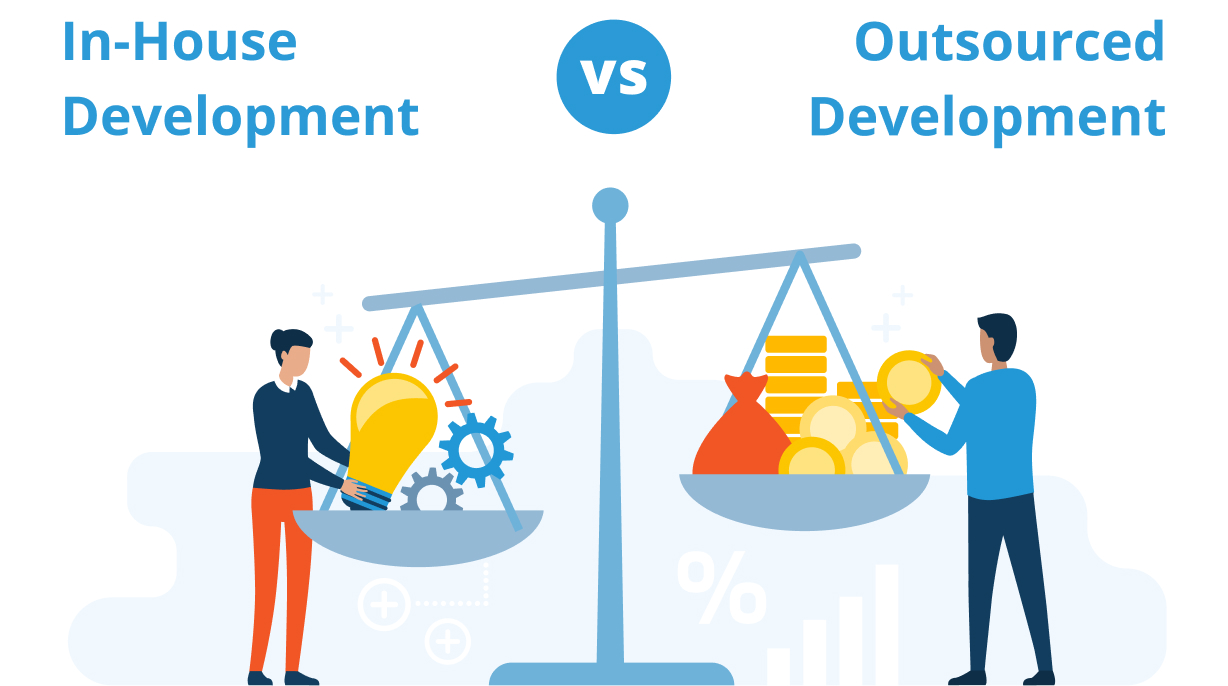 So, here is a detailed outline of the key factors for and against each approach.
In-House Development: Pros and Cons
Keeping in-house development means to build a team that is deeply integrated into your business processes and shares your company values. In addition, in-house developers can accumulate valuable background knowledge in the travel industry. It helps them a lot in making informed and efficient technology choices.
What concerns specific advantages of in-house development, these include the following:
Full-time employees are motivated to make successful deliveries and are seamlessly integrated into your organization. This inevitably leads to higher productivity compared to outsourced development teams.
Unlike outsourced specialists, your in-house developers are there with you in the office full-time. Regular in-person communication helps to manage your team more conveniently — both collectively as a unit and each team member individually.
In-house teams are much quicker in addressing ongoing challenges in your development. They are a lot more flexible thanks to in-depth knowledge of your project and full dedication to it.
However, in-house development has a number of obvious drawbacks to it, such as:
Keeping your own development staff is quite expensive. In addition to the high salaries demanded by qualified technical specialists nowadays, there's a number of other expenses to cover: taxes, office rent expenses, hardware, software licensing, vacations, social incentives, etc.
Skilled and experienced software developers are by far the most watched-for specialists on the labor market nowadays. It is quite demanding to put together and retain a stable and loyal team when there are so many tempting job opportunities around.
The range of lucrative offers is only to rise in the coming future. For instance, according to the U.S. Bureau of Labor Statistics, as of February 2021 employment for software developers is projected to grow by 22%, — several times faster compared to the 4% average for other careers. These stats spell frequent staff shortages leading to delays in software delivery.
This point has an obvious connection the previous one. The reality is that in many countries businesses face much higher competition for talents than for customers. It takes highly-qualified HR professionals to handle your recruitment. At this stage, modern talent acquisition managers in IT have basically transformed into sales representatives. 🙂 But the differences from regular sales professionals is that they sell companies to talents, not products to customers. Times have definitely changed. Being an HR is no routine clerk work anymore.
It is also a must nowadays to invest heavily in personnel retainment efforts of various sorts: bonuses, frequent salary revisions, corporate events, special healthcare programs, free sports, etc.
Business owners who decide to run in-house development must be prepared to dedicate a great portion of their time to team building, management and hiring efforts. It's a part of the daily routine. If you are not ready for this, think outsourcing.
Outsourcing: Pros and Cons
With outsourcing approach organizations find external software suppliers (domestic or foreign) to cater for their software development needs.
The main and obvious benefits of this approach are:
There are a couple of reasons for it:
Most IT outsourcing is done to developing countries. India, Ukraine, Belarus are among the world's leaders on the market. The salaries there are much lower compared to North America or Western Europe, which is the main reason why developing countries can charge moderate fees. At the same time, the level of expertise, quality and productivity sourced can be even higher compared to the western world. This is especially true with Ukraine and Belarus — the key IT hubs of Eastern Europe. No wonder that some of the most famous brands like EPAM, Viber, MSQRD, Maps.me, Flo Health and more orginate from these countries.
In outsourcing, you don't spend on recruitment and team maintenance. You pay purely for the hours developers spend working on your project.
Outsourcing vendors can staff a fully stacked team within quite short timeframes, while taking into account various preferences you may have.
There's usually lots of flexibility with outsourcing vendors regarding team size and composition. You can augment or decrease the number of allocated specialists whenever necessary without any major complications – nothing similar to the trouble you may run into with your in-house team.
IT vendors generally have a lot more options to keep a stable team for your project for an extended period of time. Their in-depth knowledge of the IT labor market and streamlined HR activities help them find numerous ways to retain software development talent. This is especially relevant in the case of senior specialists who are at the core of any project. These are rare and highly demanding when it comes to working conditions. IT-specialized vendors know how to handle these on a proper level. That is why tech companies are preferable for qualified engineers compared to employers from other industries.
If you are new to IT and software development, you can enjoy the well-refined development process practiced by your vendor on multiple real-life cases. If you seek to augment your team and continue to run your project according to a preferred methodology (Scrum, Waterfall or else), following your preferences shouldn't be a problem for the tech partner you choose.
Just like in-house software development, outsourcing has some disadvantages.
This relates to intellectual property protection. There is a risk of falling victim to industrial espionage if you choose the wrong vendor. Intellectual property and non-disclosure provisions are 'must-haves' to ensure proper legal protection.
It is frequent a practice for the client and the vendor to be located on different continents. This may lead to communication gaps and slower response times. If that's your case, it is wise to look for vendors with a wider geographic footprint and customer success stories in different time zones. These are solid proofs that your potential partner is capable of managing efficient processes under time gap limitations.
Most of the developers working in outsourcing nowadays are not native English speakers. While normally there are no significant limitations in written communication, a solid part of software engineers from the key IT Hubs like India, Ukraine or Belarus might have issues speaking their minds freely in English. However, this disadvantage can be eliminated by assigning a dedicated project manager.
A short summary
In-house and outsourcing both have their own advantages and disadvantages. Summing up the above, here is a schematic outline of all the key pros and cons mentioned: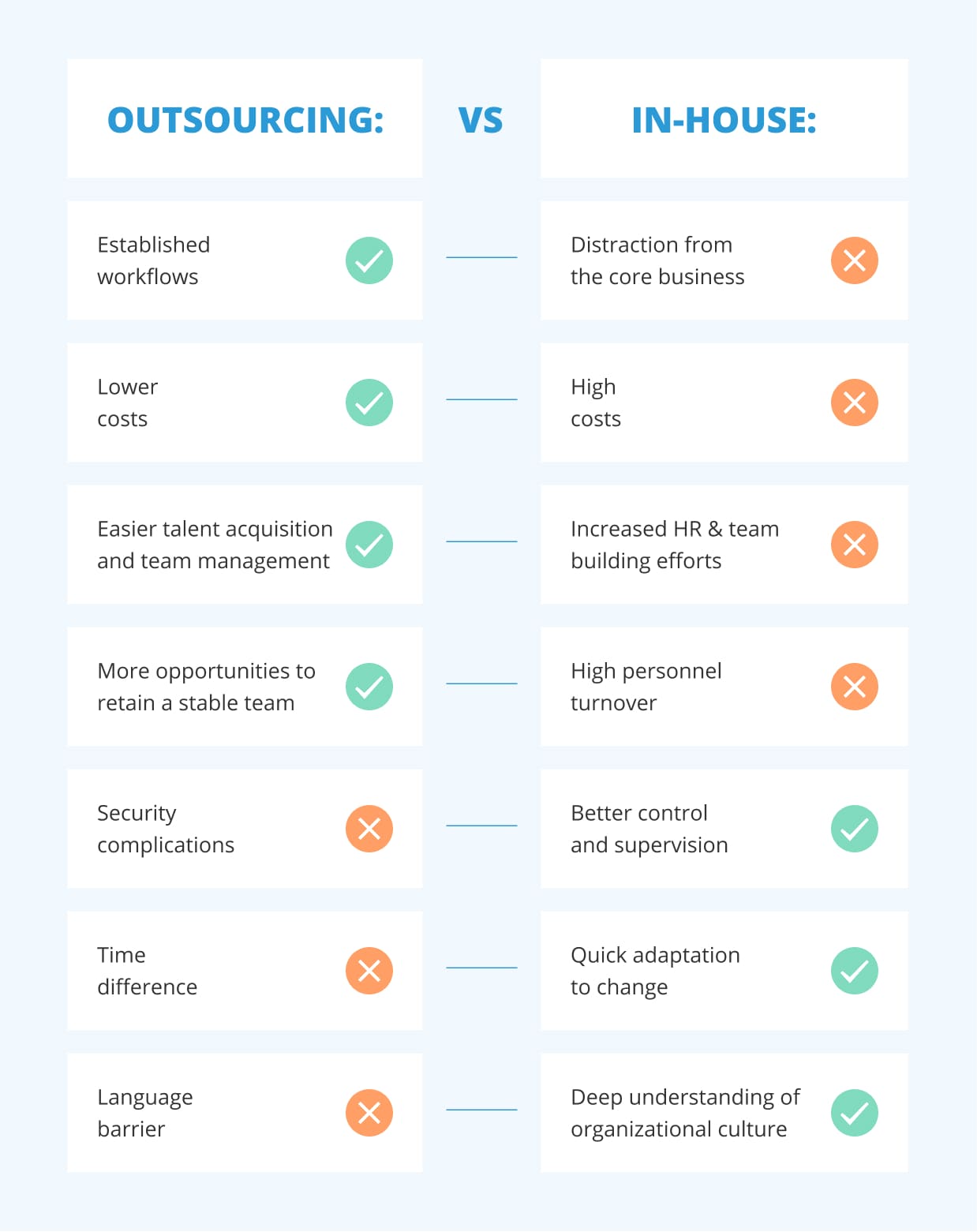 Outsourcing from a specialized travel technology vendor
In case you decide to go with the outsourcing option, it makes sense to first look at specialized travel technology vendors. They share all the pros and cons mentioned above for general outsourcing. But there are some critical advantages making them stand out by a mile compared to regular outsourcing companies:
Domain-specific knowledge
The right domain expertise is rare to find. It is born out of years of hands-on experience in travel. As researched by one of the leading global workforce analysts, domain expertise is generally a lot more important compared to exquisite technical capability.
Travel domain knowledge improves performance in various ways. For example, integration of travel supplier APIs — a common task for travel companies — will be handled by a travel tech vendor much quicker since little to no time will be spent on integration analysis and preparations.
Use of know-how to speed up development
Specialized travel tech companies usually have lots of ready-made modules, plugins and other solutions in store. And this is highly advantageous when starting a new project. Existing solutions can often be applied on a new project with only minor modifications required. This makes the development progress much faster compared to building a solution from the ground up.
Here's a good example of how a ready-made travel automation solution can apply well as part of a large-scale custom development.
Why COVID-19 is favourable for outsourcing?
COVID-19, while being a major shock for the world in general, definitely changed for the better the way people perceive outsourcing nowadays. This is primarily due to numerous lockdowns which forced companies to adopt remote operations. Thus, one of the key traditional disadvantages of outsourcing — remote communication — is no longer relevant as it became a daily routine for millions of people.
Moreover, a large share of workers enjoyed the comfort of remote work so much they aren't planning to get back to the office in the post-COVID world. For example, a study by Harvard Business School revealed that at least 16% of employees will continue to work at home long after the pandemic. The percentage looks to be even higher for software developers. "Terminal", a remote engineering talent engine, released its own study conducted amongst a group of 1108 software engineers. It shows that approximately 80% of respondents wanted to telecommute the majority of their schedule after COVID-19.
These days even the most conservative business owners are starting to embrace outsourcing practices. This trend is only to gain popularity bearing in mind the worker's mindset to stay at home after the pandemic. But what's even more important — outsourcing is just more feasible economically. Indeed, what's the point of paying a large overhead for a remote developer on your staff when the workflow is the same as with a much cheaper outsourced specialist? Therefore, there are major incentives that are sure to drive the rise of IT outsourcing in the foreseeable future.