Marketing expense management
Marketing is usually the heaviest expense item that often reaches 50% of the total project cost. It is vital to spend marketing budgets wisely – in a way that would secure a solid initial base of loyal customers.
Investing your budget in merely driving the traffic to your portal from all possible sources will almost certainly lead to failure. It would be much smarter to develop a sound customer retention strategy before launching any traffic generation campaigns. Not only will this approach secure higher conversion rates, but it can also reduce marketing expenses and release extra funds to spend on better software or customer service.
For example, it is possible to achieve good results with loyalty programs based on bonus points that can partially or fully cover the cost of a travel service. This is a crucial element for smaller businesses nowadays. It is very hard to compete with larger OTAs today without it. These programs can also be extended with volume discounts (for example, "7=6" on hotels), promocode distribution campaigns, etc. All these features can get almost fully automated, which means minimum manual effort from OTA staff.
Increased attention to non-air sales
85 % of gross OTA sales derive from air tickets while hotels represent only 14 percent, says the survey performed by Hermes Management Consulting company. That said, a more detailed consideration shows that a gross margin of hotel sales is nearly twice the amount of air sales margin – 12% against 6%. So, non-air sales represent a bigger growth opportunity for OTAs.
Step 4. Technological strategy
The entire OTA business concept heavily relies on modern online technology. It takes a complex technical infrastructure to launch an OTA. First of all, there has to be a high-performing and reliable booking engine at the core that would cover your booking flows for travel products – hotels, flights, activities, car rental services or any other you might want to sell. Next, it also needs to be extended with a number of important functional blocks, such as reservation management modules, an inventory system, business rules engine for markups and commissions, a structured API for productive data exchange via the B2C or B2B channel – and many more.
But the technical platform alone, however sophisticated, is not a 100% guarantee of success. Any implementation should be based on a reasonable strategy that can pave a much safer way towards a prosperous booking portal. Here's a few practical strategic hints that can benefit the tech side of your OTA.
Take your time before you decide – custom or turnkey
This is one of the key dilemmas to go through before any implementation takes place. A bad decision here usually causes lots of trouble. There are different reasons why people choose wrong – over-focus on a particular option, bad planning, poor work on requirements… But haste is by far the most frequent reason of them all.
Take a few minutes to read this article from our blog for valuable guidelines that can help you make the right decision.
Start with an MVP
It is common practice for startups to first enter the market with a Minimum Viable Product, or MVP. It stands for a software version that offers just enough features for use by early customers who can provide valuable feedback for future product development. This technique is created to avoid excessive initial efforts. It allows to make sure that your core OTA concept really works before any full-scale development is launched.
Give more focus to mobile solutions
According to Research and Markets, the mobile travel booking market is expected to grow at an average rate of 12.2% between 2021 and 2029. This is higher compared to the CAGR of 10% that is forecast for the global OTA market until 2025. Markets like North America demonstrate the share of mobile bookings as high as 40% from the overall online market, with a further growth dynamic. All these figures suggest paying specific attention to the mobile UI of your portal. It is possible to start with a mobile web version or an adaptive layout first to keep initial efforts to a minimum. Native Android and IOS apps can be released at later stages. Anyways, mobile interfaces should be kept in order at all times.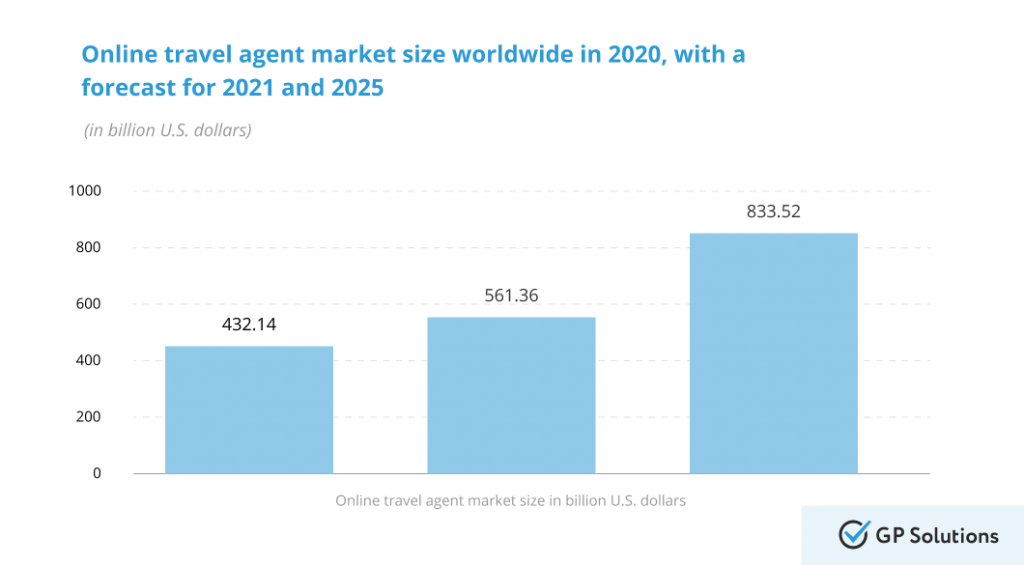 *Source: Statista 2021
Step 5. Third-party integrations
No OTA website can operate as a fully closed independent system. Every modern online booking portal requires a number of integrations with external systems to perform its basic tourines – display travel product offers, process bookings, accept payments, generate performance for the management, etc.
Travel suppliers
An overwhelming majority of modern OTAs rely on 3rd-party suppliers for travel data. This group of entities combines various types of travel distribution platforms – GDSs, bedbanks, flight consolidators, other OTAs, etc. They are convenient to work with because they deliver content and confirm bookings almost fully automatically via specialized application programming interfaces (APIs). There is no need for lots of manual work as in the case with own travel inventory.
Many OTAs have turned to use travel API aggregators quite extensively in recent years. This is a great opportunity to cut down drastically on your API integration efforts by unifying multiple travel suppliers under a common product-based API. For example, a single Hotel API integration can put you through to Hotelbeds, Ratehawk, Webbeds and many other suppliers all at once in real-time. This is something really worth exploring while planning integration efforts for your OTA.
Payment gateways
Online payment options is what really wrap up the one-stop-shop experience that is so highly valued in OTAs. The market of payment gateways is so rich that it is really easy to get lost in it. Hope these few guidelines will help narrow down your search:
Look for the list of gateways operating in your market. Your customers will appreciate a wider range of payment options that are popular in their countries. Of course, it is possible to get by with gateways like PayPal and Stripe that work worldwide. But these are almost certain to charge higher transaction fees compared to local vendors.
Choose the most secure payment solutions. Opt for payment solutions offering strong fraud detection mechanisms and built-in security techniques – tokenization, 2FA, etc
Check supported currencies. Be sure that your gateway can fully support the currencies you plan to work with. It would also be smart to pick a system with a wider choice of currencies to feel safer for the future.

CRM integrations
Integration of a CRM system can benefit your OTA business in many ways. Systems of this type are designed to provide valuable insights into customer data, behavior and sales data. They help to determine the most promising segments of your audience and indicate opportunities to yield even better financial returns from your current customers.
Most popular CRM systems like Salesforce or Hubspot may not be the cheapest pieces of software. But if used properly they can (indirectly) save you lots of money and constantly new areas to generate extra profit.
Connection to other systems
OTAs may frequently use other systems for their day-to-day needs. These may include accounting systems, reporting and analytical tools, BI solutions, etc. A properly built export API can make the process of using them much easier, as soon as it can:
Export all kinds of business-critical data (users, reservations, bookings, etc,);
Support different commonly used data exchange formats (CSV, XML/XSLT, JSON)
Thus, it makes sense to add this item to your OTA tech checklist.
Step 6. Building competitive customer experience
Last but definitely not least is the level of service and experience an OTA can offer to its customers. Modern travelers are very demanding and are only willing to go for top-notch service that "flows like clockwork". This effect can only be reached by making regular contributions into:
User interfaces. Successful online booking portals usually offer the following UI elements:
Quick registration process (with Guest booking option)
Comprehensive search results display
Intuitive and functional personal user area
High level of personalization
Each of these points needs constant attention and improvement in order to keep up with the market trends. Otherwise, your portal runs the risk of falling behind.
Building trust. Every visitor to your website must feel instantly at home. The credibility of this sort can be developed with the help of various activities and techniques, such as, for example:
Adding trustmarks to the website footer (payment gateway logos, certifications, licenses, accreditations, etc.);
Maintaining an informative 'About us' area containing detailed descriptions of company history, its kye specifics, information on founders and top managers, etc.;
Provision of elaborate descriptions on cookie and personal data policies;
Putting up a section with customer references and testimonials
Customer service. You can't avoid chats in the travel industry, as users always have different inquiries and questions. Don't forget your users have a vacation mood, so customer service should be as friendly as possible.