Tour operator back-office systems can incorporate CRM solutions differently. There can be built-in CRM modules that come as a constituent part of the back-office. However, a more popular way is to integrate back-office software with external specialized CRM solutions – the likes of Salesforce, HubSpot, Pipedrive, or others.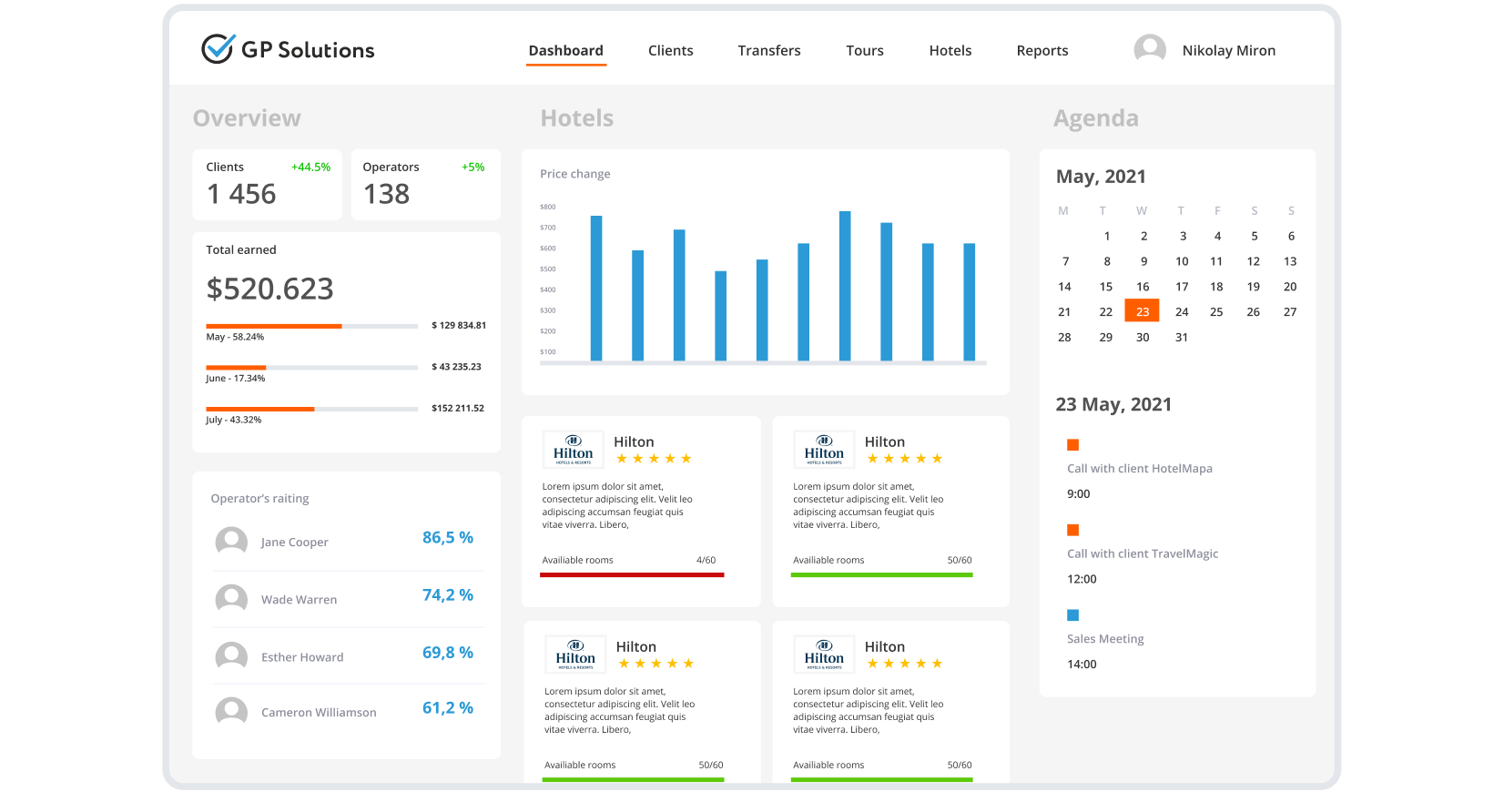 Business rules engine
Business rules block is another important element within a tour operator back-office. Its purpose is to aggregate and govern the internal logic and commercial conditions of running tour operator business. In particular, business rules engine can be used to:
Set markups and commissions (universal or different for various groups or separate agencies, etc.)
Configure various business rules and guidelines (for ex., sell only certain products to some sales channels, print out vouchers in any case or only after the payment, book a travel product not earlier than X days before the departure and so on and so forth);
Define product preferences (for ex., own inventory prior to contracted from a 3rd-party);
Set the company's own penalties or tighten penalties of suppliers (e.g. change the penalty date or add own rate to the supplier's penalty).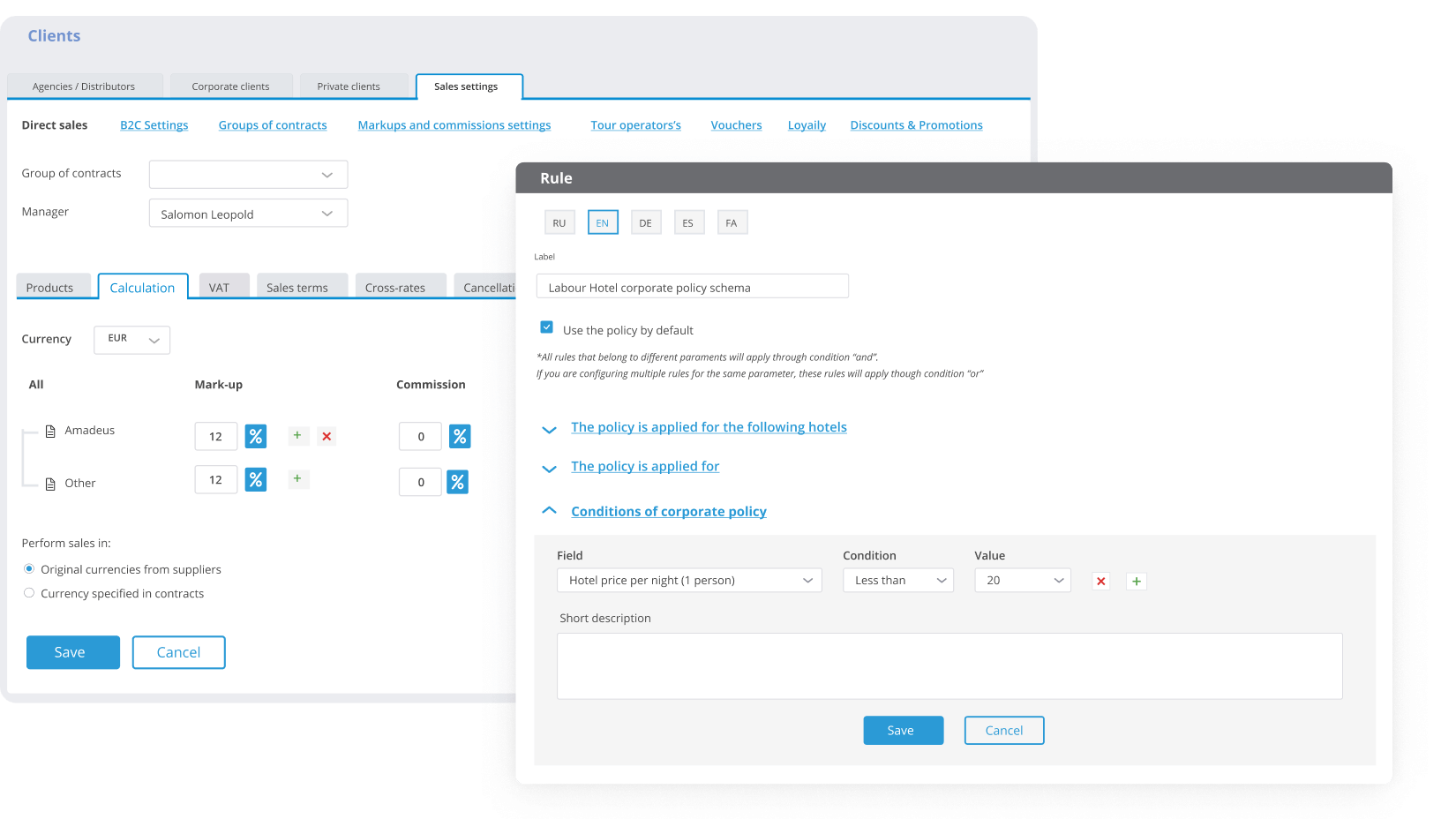 Business rules engine can be compared to what is known as 'grey cardinal' or a 'shadow director' – an invisible driving force that defines the key logic behind the entire business model.
Finances
This software segment serves to track financial operations and acquire complete information regarding the tour operator's financial flows. It normally involves the following items:
General ledger. This is the main resource used to document and track business' transactions related to various actors within a tour operator system: tour operator itself, agents, suppliers, partners. This section aggregates bookings stats, invoices and financial reports to give a generalized view of the current tour operator financial stats.
Deposit section. This segment is used to track and control the status of prepaid deposits made by agencies for booking travel products.
Invoicing. Whenever a financial transaction is made, an invoice is generated on the back-office side. It is typically issued for clients or suppliers. Invoicing section accumulates all amounts and statuses of issued invoices in order to provide an aggregated picture of the current status of all transactions – how much is covered, due, overdue, etc.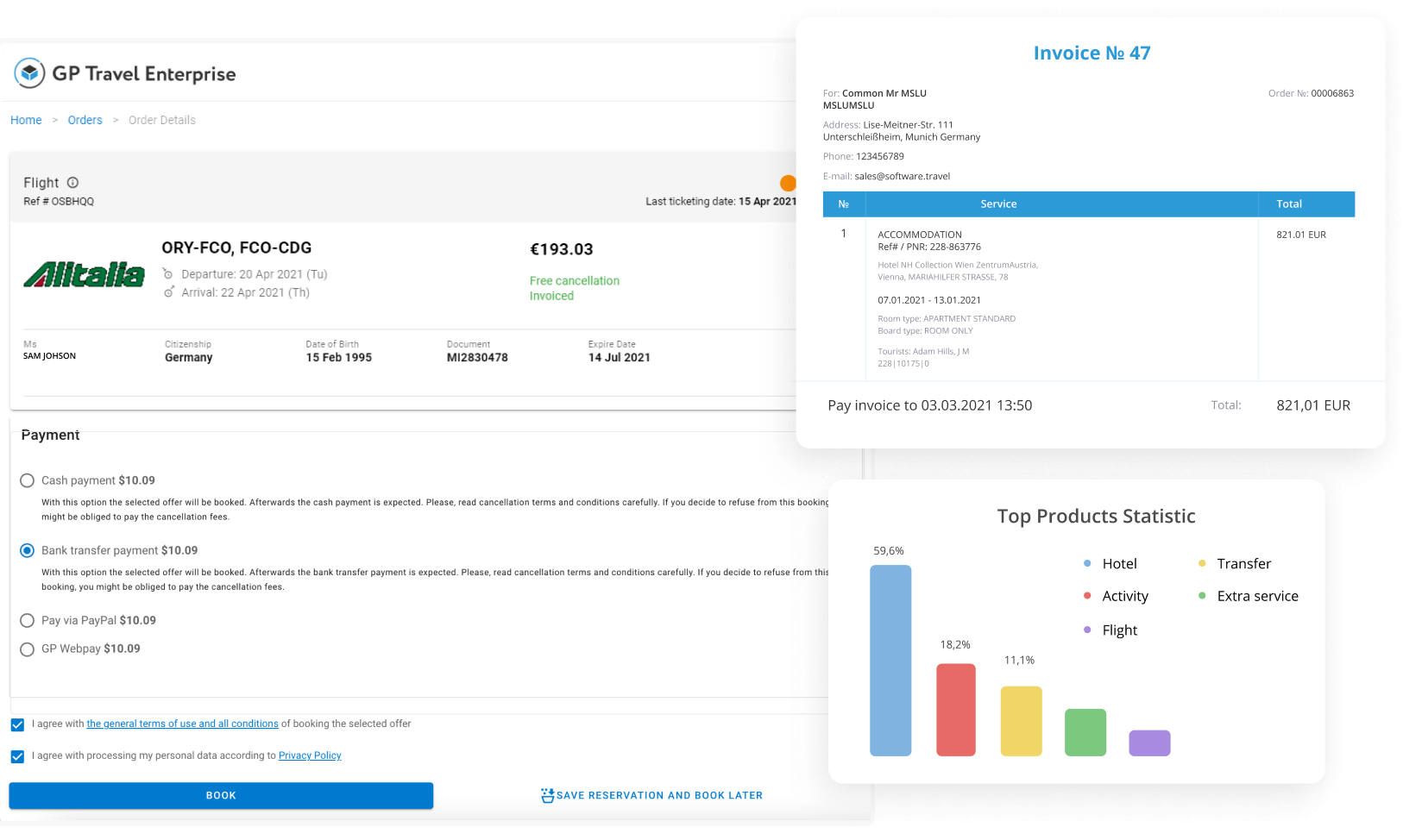 Own accounting is available to this or that extent in any tour operator back-office. But the common practice nowadays is to also connect specialized accounting software like Sage, Xero or other systems for the purpose.
Payment rules
It is of vital importance for the tour operator to provide adequate means and conditions of payment for the travel services provided. All activities associated with setting up payment methods and conditions are usually handled within a specified back-office section. It usually contains options to configure:
Payment plans and methods
Online payment method settings
Applicable tax settings (for ex., VAT rates).
Different calendar timeframes for payment settlement;
Notification settings (in case of payment confirmation, overdue payments, etc.)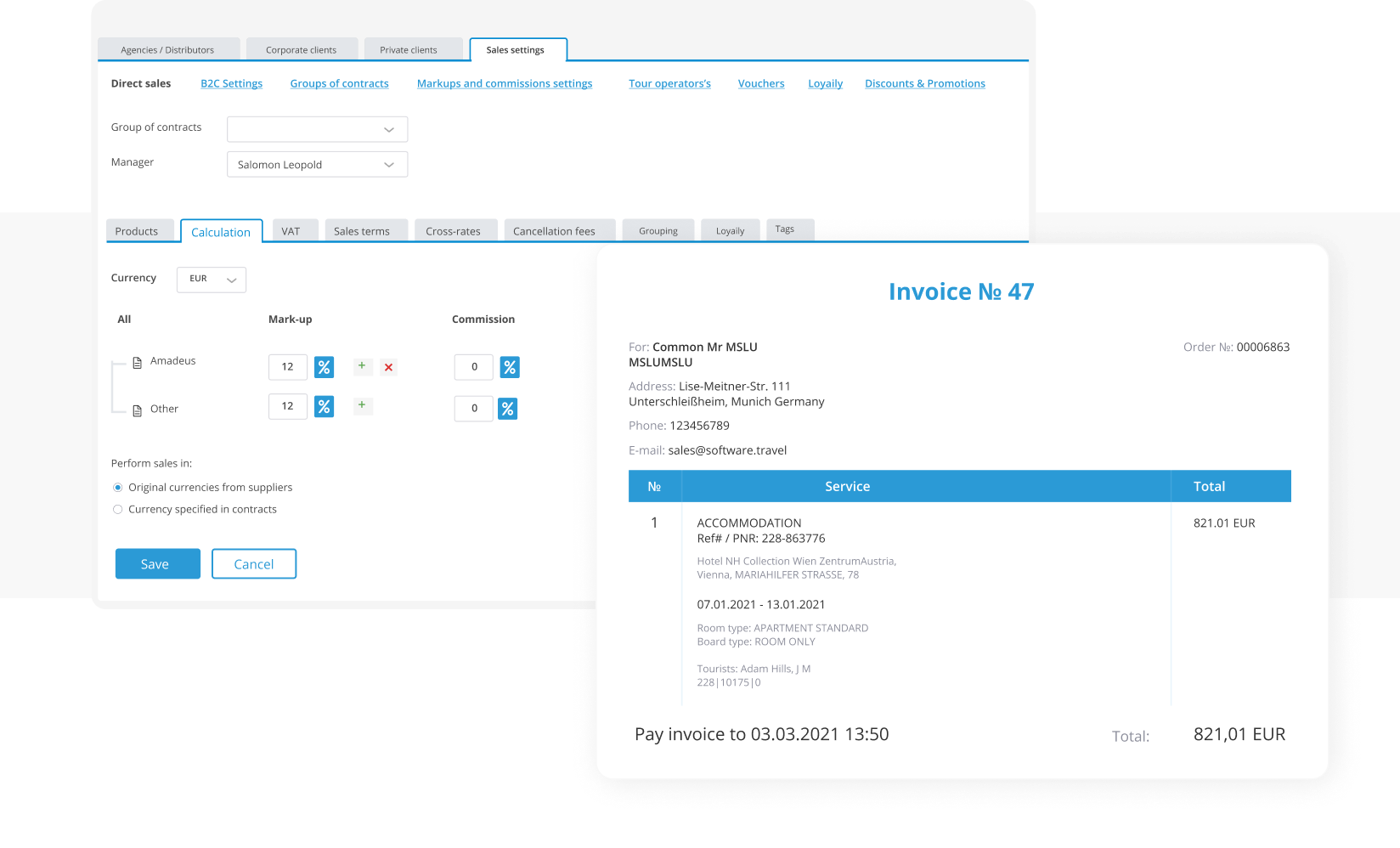 Analytics
This functional block grants the tour operator full control over the sales status and company performance. It can provide tour operators with instant and exact information on the number of orders made by any given agency and from any given supplier, build reports on the most booked destinations, travel services and much more.

Modern analytics in tour operator back-offices can be built-in or also connected from a specialized 3rd-party vendor (for example, JasperReports, Microsoft PowerBI, HubSpot, FineReport, etc.). The latter are normally a lot more sophisticated and are powered by the latest advances in BI and Big Data to offer top-notch stats and analytical data.
Analytics functionality is one of the most important elements influencing decision-making of tour operators with live data on business performance.
User management
Modern tour operator systems involve a whole world of different users responsible for their own bit of work within the company's structure: managers, administrators, guides, suppliers, agents, corporate clients' employees and many more. It is important to provide them with adequate permission rights to enable them to perform their own bit of work effectively and without intervening with the activities of their colleagues. A separate user management section is normally provided for this purpose. In addition to permission rights settings it normally provides instruments to:
Manage and retrieve login credentials;
Store and update user details and associated information;
Record system logs to track sensitive activities, etc.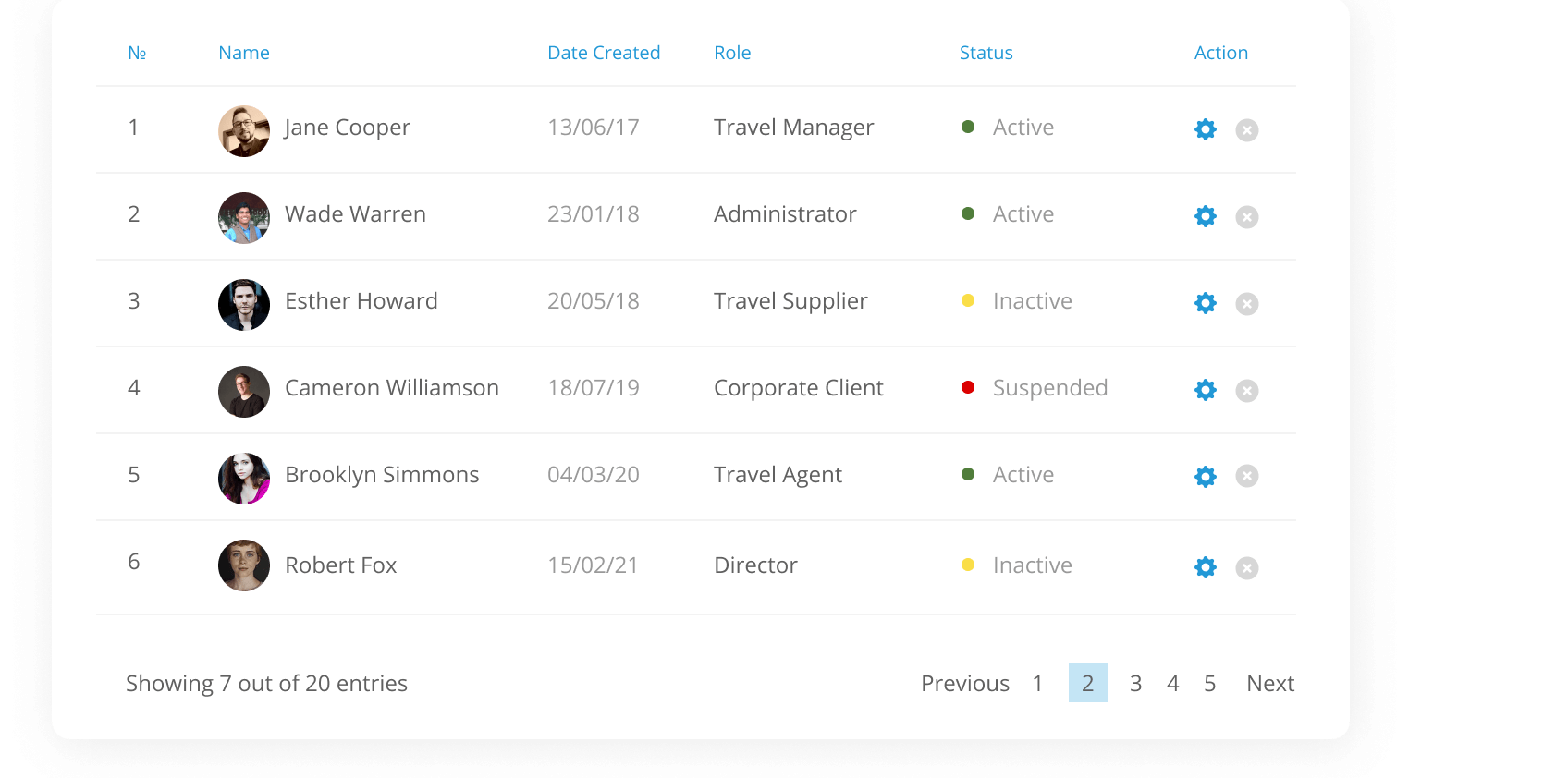 Thus, the user management section provides a unified point of supervision over users making it easy and convenient to execute supervision of their activities.
Customer service
Adequate and professional customer care is a major prerequisite for strong business performance and building a loyal client base. Modern back-office systems are equipped with various modules and tools to ensure high-quality customer service. The most frequently used ones are:
Notification systems informing clients of all critical events happening with their bookings or payments;
Live online support chats for instant messaging with tour operator employees;
Mass mailing tools used for sending out marketing information or various updates regarding tour operator activity;
Helpdesk ticket managing software (for ex., Jira, Zendesk, Hubspot, Intercom, etc.)
Combined they help to ensure quick response times and effective processing of customer requests, which leads to better client retention rates, improved engagement and higher sales.
Peculiarities of back-office setup by tour operator type
It is noteworthy that tour operator back-office systems may have significant differences in setup depending on what kind of tour operators they are built for.