Complex Digitalization Strategy Set
Going for a Safari Tour Company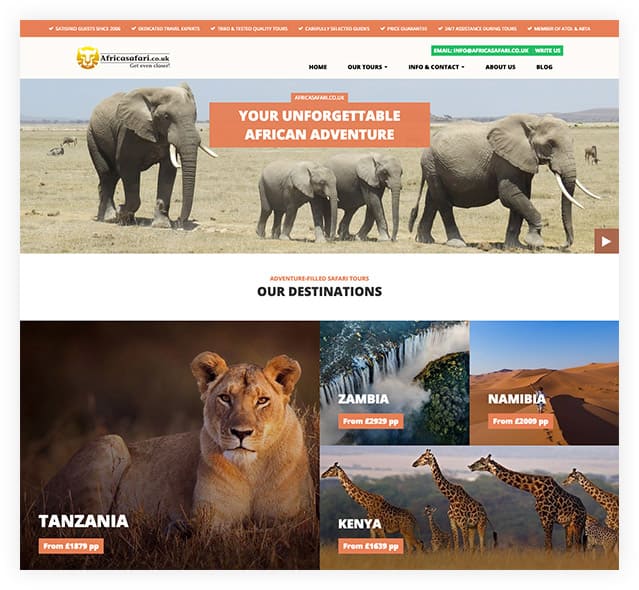 Project Background
Africa-Safari was founded in 2006 by Aclass A/S – an established travel enterprise based in Denmark. The project focuses on exploring various destinations across Africa. A lot of attention is paid to maintaining personalized approach, making sure each customer buys the journey of a lifetime.
Today the company offers safaris in eight different destinations across Africa, including the most popular ones in Tanzania and Kenya.
Challenge
At a certain point of time the management at Africa-Safari noticed that regular business routines, including document flow, data processing, customer communications and pricing estimations, literally "drowned" in manual work. The desire to make the project more profitable and competitive urged Aclass to find an external IT vendor. The successful candidate had to possess relevant travel expertise and enough capacity to pull off a full-scale automation project, covering reservation management, supplier interactions, finances and more.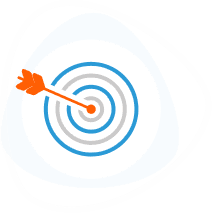 Goals
The project goals mutually agreed by GP Solutions and Aclass were formulated as follows:
Development of a complex automation ("digitalization") strategy to help Africa-Safari grow further, bearing in mind the ever growing IT segment of the travel market.

Structural revision and automation of business processes with an emphasis on efficiency and reduction of ongoing expenses.

Transmission of individual approach via cutting-edge apps, closely resembling typical human-like workflows with a personal touch.
Solution
After long-term discussions it was decided to move towards achievement of the project goals by going through a set of development phases. Each of them was to result in an application or a sub-system serving its own clearly designated business purpose.
Phase # 1: Price Calculation App with Supplier Integration
Initial phase of development. GP team delivered a custom application which served for:
Tour price calculation
Integration with a GDS as the sole 3rd-party travel supplier
To ensure effectiveness in operation, the app was developed in Java – a widely recognized technology for enterprise-level applications. After securing the back-end, GP team built a front-end with easy-to-use price management functionality using AngularJS – a front-end framework of JavaScript.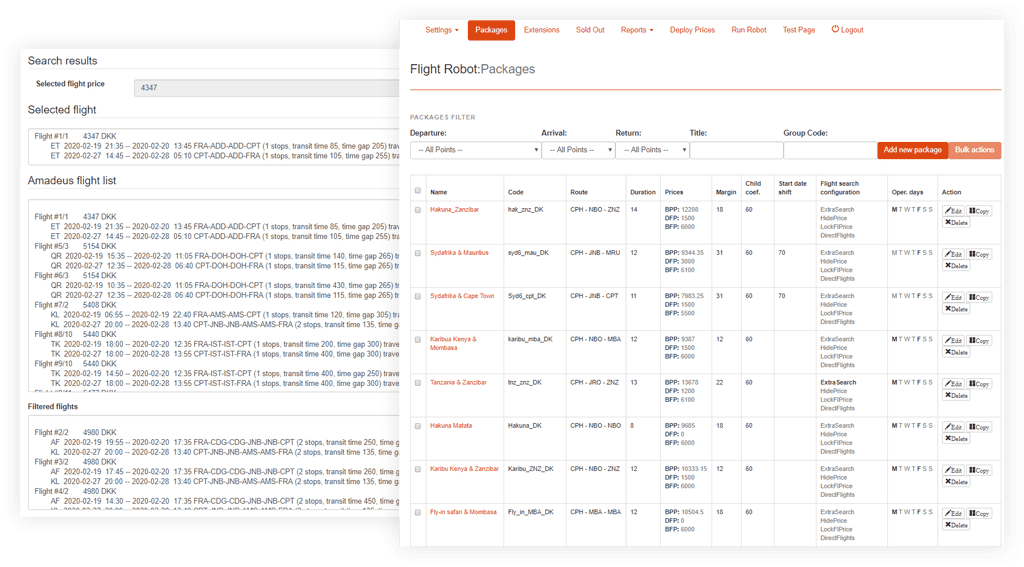 Phase # 2: Customer-facing Websites
The second major step in implementation for Aclass was to develop multiple customer-facing websites for advertising tours and destinations across Africa. The websites had to support sufficient content management functionality.
The tech stack for this phase included PHP with an emphasis on Yii framework. Additionally, the open source CMS WordPress was actively used in development.
This phase resulted in over 20 unique CMS-based websites offering robust functionality, including:
User registration / login
Search & book of tours
Publishing of media files
Possibility to leave a contact request
Communication with a tour advisor – and more…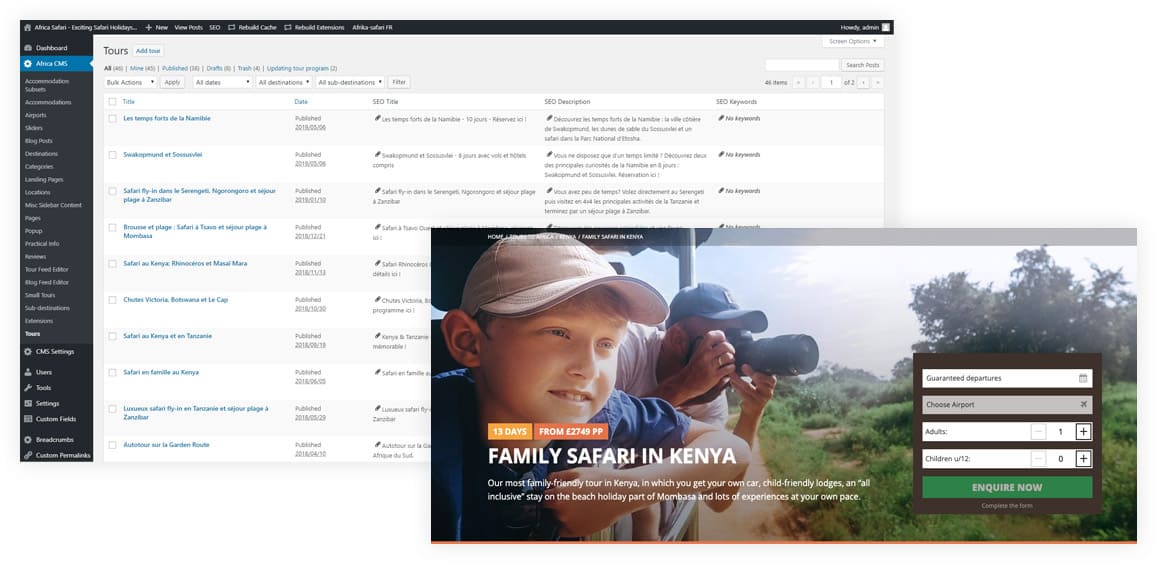 Phase # 3: Management of Requests and Proposals
During this phase GP team came up with an elaborate solution for handling incoming customer requests and creation of understandable and nicely designed proposals.
The developers crafted an application, which secured the storage of incoming customer requests and retained all of the comments and details submitted by users via customer websites. The app allowed to generate tour itineraries as full-fledged HTML with an accentuated and clearly conveyed personal touch.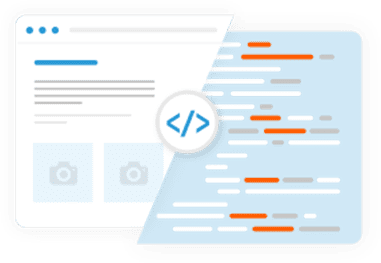 Results
GP Solutions and Aclass A/S established ongoing and mutually beneficial cooperation. As mentioned by the management at Aclass, the money spent on GP's services started to pay off already after the first six months of development, with profit margins only growing over time.

A dedicated development team is allocated for Africa-Safari on fulltime basis.

The tech innovations by GP helped Aclass in setting up an effective process of communication with the end customer.

Aclass achieved a significant cutdown on man-hours spent to handle customer requests and proposals.

The business became a lot more attractive for investors and the target audience.

Development for Aclass never stops, with new releases from GP coming out on a regular basis.
Java Script, Java, PHP, Angular, Node.Js
Testimonial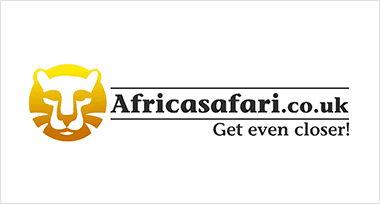 Claus Palmgren Jessen
Managing Director, Aclass A/S
"Due to their experience in travel IT we've selected GP Solutions GmbH to work on a custom project for Afrika-Safari, which involved interaction with Amadeus. We found GP team to be professional, dependable and responsive.
We are pleased to recommend GP Solutions GmbH as a reliable travel technology partner."

Schedule an appointment with us to discover about how
GP Solutions can help your business achieve its every goal!