Complex Online Booking Upgrade
for Flagship European Airline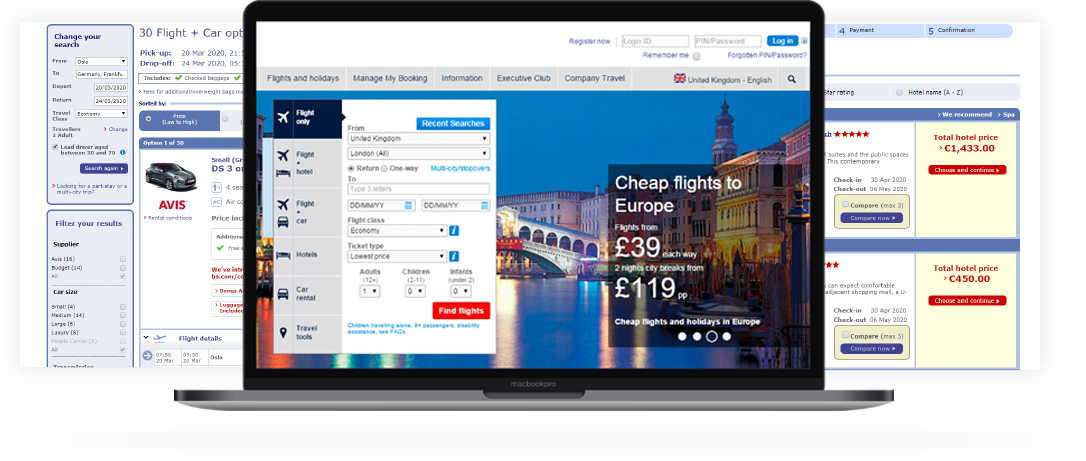 Project Background
The Client is a flagship European airline. The company is one of the world's leaders among airlines by fleet size, covered destinations and the total aggregated international flights per year.
Challenge
The airline was seeking to upgrade its existing online booking portal with new functionality to offer a more diverse and convenient experience to its customers. Another challenge was to set up collaboration with third-party IT vendors delivering other functional parts of the booking platform.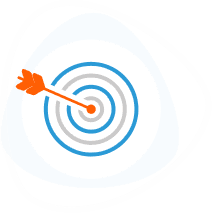 Goal
Bearing in mind the plans to increase website traffic, conversion rates and customer loyalty, the Client set the following objectives:
Development of a new cross-selling module to offer additional travel products and services, such as hotels, car hire and insurance, up on the booking website.
Integration of new travel consolidators to diversify the range of travel products made available for booking online.
Refactoring of online payment processing to introduce new payment options.
Implementation of dynamic travel packaging based on a new business logic to make the booking more intuitive and easy.
Solution
GP Solutions assembled a team of IT experts, which grew from 2 to 16 members over the course of 5 years. The main project development stages are highlighted below:
1. Dynamic Packaging Module
GP Solutions built a custom dynamic travel packaging module allowing the clients to combine and book several travel products within a single booking request.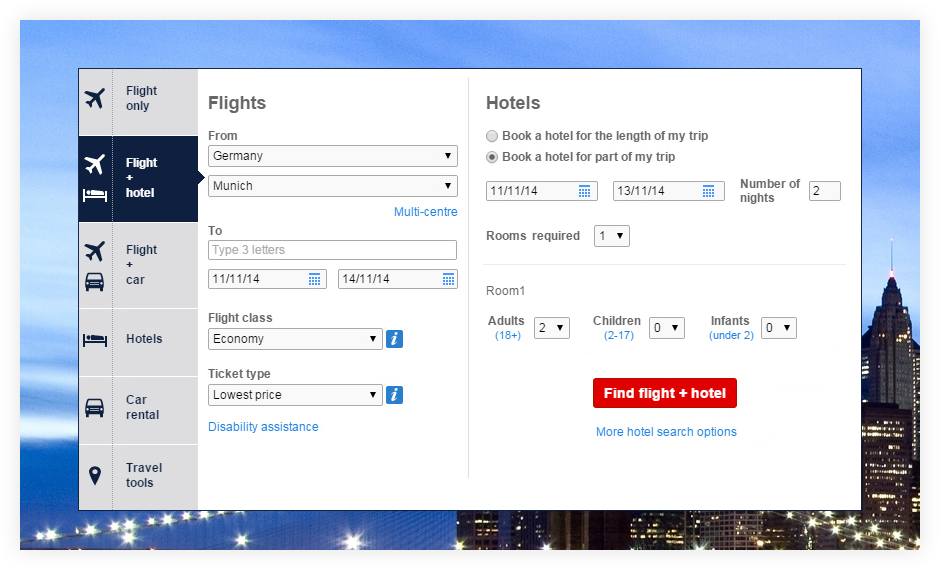 A new fully custom packaged tour calendar module was developed. It allows to look up flights within a 3-day window before / after the selected travel dates. This module helps website visitors to make informed choices during ticket booking by comparing the offers for adjacent dates.
3. Connector to American Express
The team developed a new connector to American Express. The main goal of this implementation was to improve the 'one-time-use credit card' payment option. After the implementation payments started reaching suppliers directly and allowed to offer better pricing for the end customers and enhance user experience.

4. Connector to Pegasus Solutions
Ultimately, the team introduced a new connector to Pegasus Solutions, a hospitality technology provider. GP Solutions also updated the existing connectors to B2B consolidators Travco, Avis, Viator, and Hotelbeds.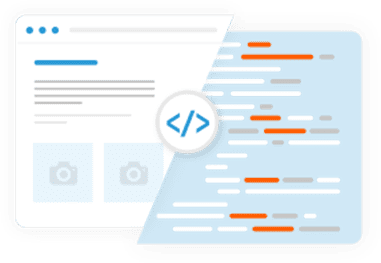 Result
Having Introduced new features, including diversified travel product offering on sale, new payment options, and dynamic packaging, GP Solutions helped to create a better digital experience for the airline's customers.
In turn, this has brought a visible business impact:
Customer loyalty increased by 40%;
Digital sales volume improved by 25% compared to pre-launch period of upgraded portal;
The project's success received recognition by winning the Best Airline Website award by Travolution.
XML/XSLT, JSP, JS, HTML, Java
We'll be happy to share with you more success stories upon request!