GP Solutions has been awarded by the World Travel Tech Awards — the leading authority recognizing excellence in global travel and tourism
GP Solutions, one of the leading IT companies in the travel sector, announced today that it has been recognized as the World's Best DMC Software Provider and the World's Best Travel ERP Solutions Provider by the World Travel Tech Awards 2023.
The World Travel Tech Awards is the sister event to the World Travel Awards, currently celebrating its 30th year reviewing the best in hospitality and tourism. The World Travel Tech Awards are voted on by travel professionals, media, and consumers worldwide, and celebrate the full spectrum of the global travel technology sector.
"We are thrilled and honored to receive these prestigious awards from the World Travel Tech Awards," said Sergey Zubekhin, CEO at GP Solutions. "These awards are a testament to our dedication and expertise in developing innovative and efficient software solutions for the travel industry."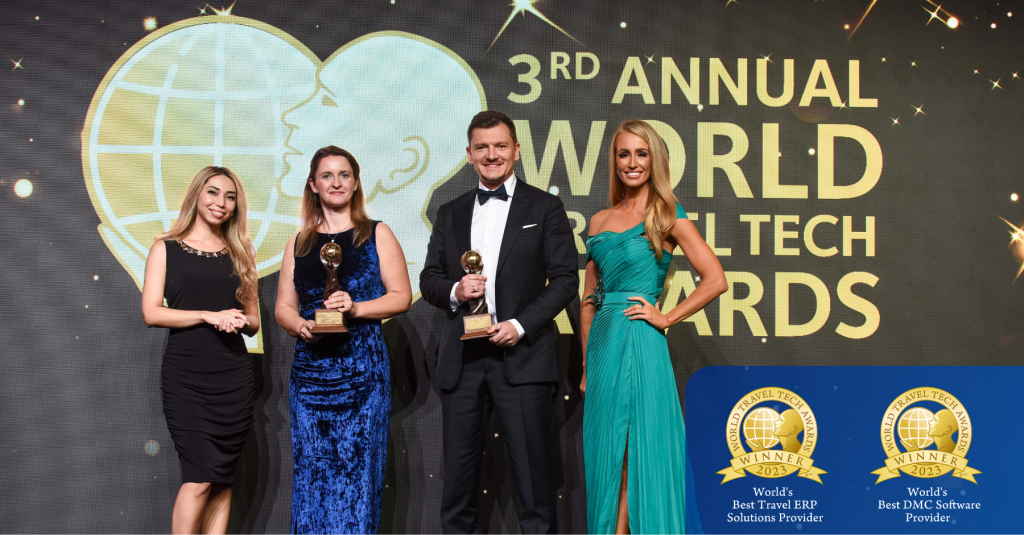 GP Solutions offers a range of services, from travel consulting and analysis to development and support. GP Solutions can help travel businesses with any aspect of their travel technology, whether they need a booking engine, a CRM system , a mobile app, etc. We can also provide custom solutions based on our ready-made products or create something entirely new from scratch.
"We are proud of our team and our GP Travel Enterprise product, which has been serving hundreds of clients for over 20 years," said Maria Bondarenko, VP Product. "We are always looking for new ways to improve our solutions and meet the evolving needs and challenges of the travel industry."
The World's Best Travel Tech Awards winners were unveiled during the Travel Tech Awards Gala Ceremony on Sunday, October 15, 2023, at Atlantis The Royal in Dubai. The annual red-carpet evening brought together travel and technology leaders from across the globe for one of the industry's most prestigious events of the year.
"It has been an honor to celebrate our winners at this year's World Travel Tech Awards," said Graham Cooke, founder of the World Travel Awards. "Our winners are shining examples of travel and tourism excellence, and we congratulate GP Solutions for their outstanding achievements."
About GP Solutions
GP Solutions is one of a few travel-specialized software development companies. GP Solutions has made it its major focus and stuck to it throughout more than two decades of its history. This makes GP Solutions a great fit for travel businesses both new and established, and helps GP Solutions provide them with professional technological advice and expertise that's been time-tested and proven in hundreds of projects.
About World Travel Awards
The World Travel Awards were established in 1993 to acknowledge, reward and celebrate excellence across all sectors of the tourism industry. Today, the WTA brand is recognized globally as the ultimate hallmark of quality, with winners setting the benchmark to which all others aspire. Each year, WTA covers the globe with a series of regional gala ceremonies staged to recognize and celebrate individual and collective success within each key geographical region. WTA gala ceremonies are widely regarded as the best networking opportunities in the travel industry, attended by government and industry leaders, luminaries and international print and broadcast media.
For more information about WTA, visit worldtravelawards.com.