Advanced Travel Platform Setup for a Medical Tourism Company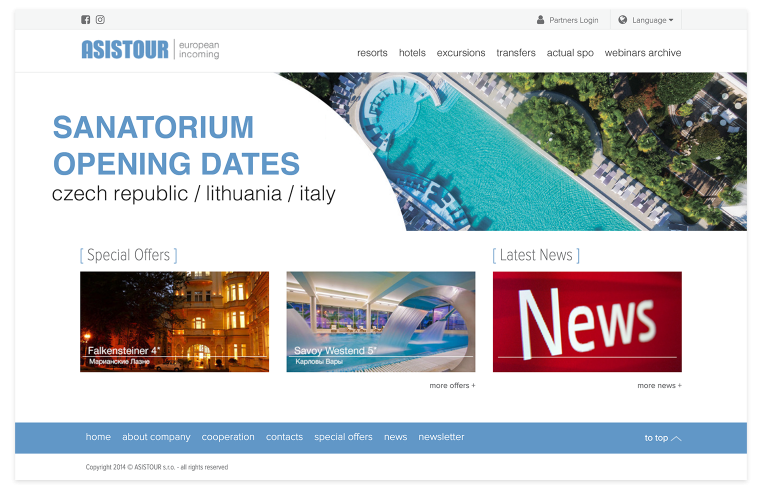 Project Background
ASISTOUR is a modern dynamic European travel company headquartered in Karlovy Vary, Czech Republic. Its activities are focused around medical tourism, where the company established strong reputation as a reliable and trusted operator.
Nowadays ASISTOUR is one of the largest and most technologically advanced tour operators engaged in selling trips to thermal resorts in Czech Republic, as well as tours to Slovakia, Lithuania, Poland and Italy.
Challenge
ASISTOUR approached GP Solutions looking to expand its list of service delivery areas, develop partner network and increase the number of direct contracts with hotels in different regions of interest. From the very beginning the company expressed particular interest in GP Travel Enterprise platform as a solution which could potentially cover all of their technical requirements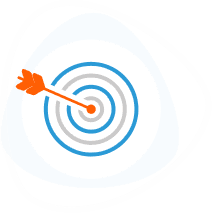 Goal
The main goal pursued by ASISTOUR was to acquire a technical solution, which would allow to solve the following objectives:
Extension of destinations and markets for travel service distribution;
Integration with new travel product suppliers to expand the service portfolio offered to the end customer online;
Setup of B2B sales through integrations with partner companies.
Solution
As part of project implementation, GP Solutions delivered a set of modules based on GP Travel Enterprise platform. Multiple enhancements were made to adjust the modules to specific Client's requirements.
Below is an overview of supplied modules and developments:
One of the major prices of work done for ASISTOUR was the enhancement of "Scheduler" module – a constituent element of GP Travel Enterprise platform. It is designed for Travel Agents and helps to track and manage transfer & excursion bookings with the option to create customized reports. Its major functions are:
Grouping of bookings based on specific parameters;
Planning of tourist seating arrangements;
Guide / driver assignment for tourist groups;
Options to move, manage and split bookings between tourist groups.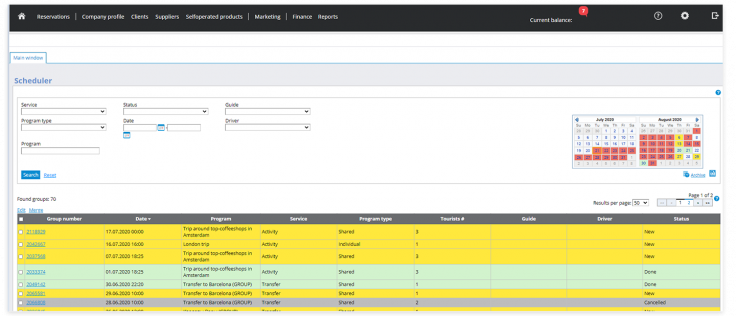 The module was significantly updated by our dev team to meet the Client's requirements. As a result, the following new functionality was implemented:
Booking calendar showing numbers of reservations by day / week;
Updated statuses for tourist groups with color identifiers;
New filtering options (by service, program type, etc.);
Options to merge and edit groups.
In order to make the sales process more effective, "Meal Types" module was delivered to ASISTOUR. It was also extended with options to add prices for meals and treatment in multiple variations (for example, FULL BOARD AND TREATMENT, HALF BOARD AND TREATMENT, BED & BREAKFAST AND TREATMENT, etc.)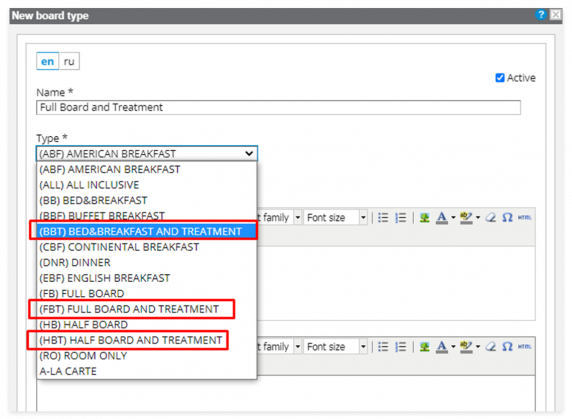 3. Updated Inventory Module
Before turning to GP Solutions, ASISTOUR did not have a technical solution to set and manage availability & pricing for their self-operated excursions. To address this situation, our team supplied GP Inventory module – an integral part of GP Travel Enterprise. The module allows to create descriptions, set pricing and availability for diverse travel products (accommodations, transfers, excursions, charter fights, etc.) and immediately put them up for sale.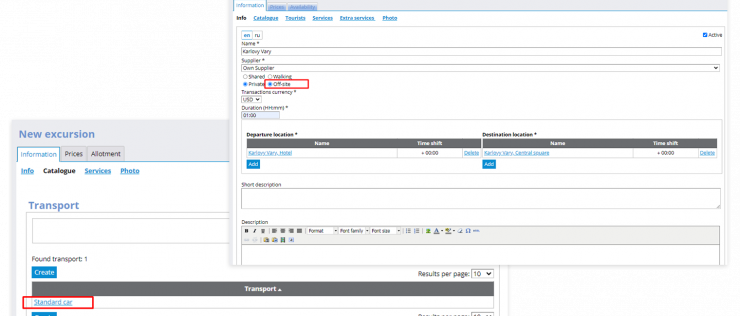 "Excursions" product type of GP Inventory was re-factored for ASISTOUR to reflect their business specifics. It was enhanced with options to create private, shared, walking and off-site excursion types.
4. Self-operated Product Discounts
As the last project step, GP team supplied "Discounts" module allowing to create tailored discounts, promotions and deals with the option to highlight them in search results on B2B and B2C interfaces.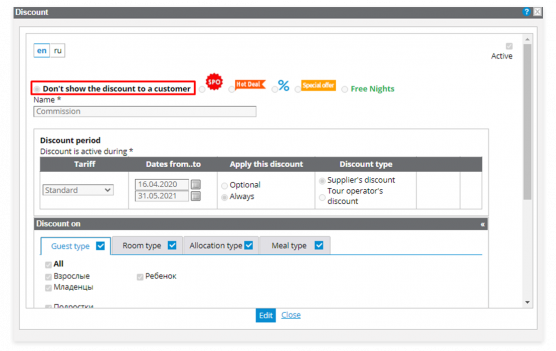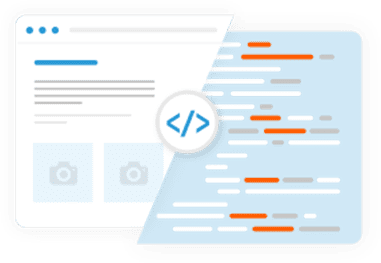 Results
GP Solutions and ASISTOUR managed to establish a mutually beneficial cooperation. The solutions provided by GP Team met the Client's requirements successfully addressed its business challenges. The enhanced modules of GP Travel Enterprise provide usability and easier customer relationship management.
Development for ASISTOUR is an on-going process, with new releases and front-end modifications coming out on a regular basis.
Schedule an appointment with us to discover about how
GP Solutions can help your business achieve its every goal!